When you first hear Nikki Lane's twangy Southern voice singing about leaving her podunk hometown and not looking back, atop a shuffling beat and warbling lap steel, it's easy to mistake her debut single "Gone, Gone, Gone" for a late '60s country hit by, say, Loretta Lynn. The music video for the song, premiering here, with its exceptionally stylized visuals, only deepens that confusion — in delightful fashion. Watch it below.
The photogenic, raven-haired Lane adopts a wide array of looks in the clip, many of which were inspired by country music videos and TV performances from the '60s that director Jared Eberhardt showed her. Two scenes in particular — one towards the beginning where Lane's singing among the pines, clutching a mic, and another where she's wearing a yellow dress and snuggling with a baby lamb — could literally be outtakes from old episodes of Hee Haw.
But it's tempered by a modern flair, too, Lane tells SPIN. "We made [the old country videos] a core part of our influence," she says. "But while I love classic country, I also love listening to rock'n'roll, traveling, and all around just trying to have a good time." And she does just that in other parts of the clip, frolicking with gal pals in a riverbed, and partying with them by a campfire.
While classic country sounds permeate her debut album, Walk of Shame (out Sept. 27), Lane only got passionate about those sounds after dropping out of high school in her native South Carolina and moving to L.A., where she befriended some "record nerds" who clued her in. And while she got hooked on Lynn, Waylon Jennings, and Neil Young, she says she was shaped equally by modern rock'n'roll, like Jeff Buckley, Radiohead, and Mazzy Star.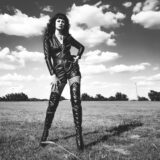 For those who find Lane's style as compelling as her music in "Gone, Gone, Gone," note that her favorite stylists include Susanne Ford-Carafano, Leanne Ford-Shaffer, and Shae Acopian Detar. "When I'm looking for style references, I usually just stalk either of their sites or look at old images of Jane Birkin and Francoise Hardy," says Lane, who's also modeled and even designed her own line of shoes, a profession she's putting aside as her music career takes off.
"My shoe venture was fun, but overall not a very successful business venture," she admits. "I'm hoping the next project might be a brand of blue jeans — the kind that costs less than a hundred dollars."
"Gone, Gone, Gone" also appears on Lane's EP of the same name, which is out now.