Cosmogony is a theory that attempts to explain the origins of the universe and human existence. It also happens to be the title of a song from Björk's forthcoming Biophilia, the Icelandic singer's ambitious album and iPad app. The single will get an official release on iTunes tomorrow, but the track is available for streaming over at All Neon Like.
As the title suggests, Björk delivers a haunting and mysterious ballad, peppered with horns, a subsonic pitter-pattering beat, and other symphonic sounds. The spare, minimal instrumentation allows Björk's voice to take center stage, as she unspools her own understanding of how the universe came to be. Evidently, it involves a fox. "They say back then our universe was an empty seat / Until a silver fox and her cunning mate began to sing a song that became the world we know."
Along with a traditional release on September 26, Biophilia will be available as an interactive set of 10 "in-app" experiences for the iPad. The parent app holding each of those 10 in-apps is also scheduled to be available tomorrow on iTunes.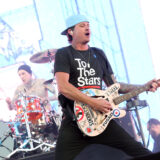 According to its product description, the Biophilia app suite will contain a multitude of features, including a three-dimensional galactic interface with the song "Cosmogony," access to new tracks and apps upon release, music scores with karaoke playback, abstract song animation, lyrics, educational artwork, interactive games, and essays that explore Björk's inspirations for each tune. Whew!
SPIN caught up with Björk last month to talk about her project, and the singer suggested ambitious multi-media albums like hers will soon become the norm.
"It's always going to be the next generation that comes and has twice as much energy as we do," she said. "And they're going to want to do something with these arms and legs. With laptops and the Internet, you just have re-evaluate physicality. You aren't limited to a guitar. It doesn't matter how well you can play piano. That physicality is not limiting you."
Björk is also in the midst of a three-year-long traveling residency, where she will perform and provide education opportunities for musically-interested youngsters. "I want to perform in science museums," she told SPIN. "We were talking about San Francisco and the Exploratorium. It'd be a resource: when the kids come in to study crystals, they'd get the best crystals in the world, as well as a specialist, then straight after they'd write a song about it."
No set dates for the U.S. yet, but she has just announced six performances in her native Iceland at Reykjavik's Harpa Concert Hall from October 12-28.