Beastie Boys are delivering the visual goods around their new album, Hot Sauce Committee Part Two. First, the Boys dropped an epic short film for their track "Make Some Noise," featuring Elijah Wood, Seth Rogen, Jack Black, John C. Reilly, Will Ferrell, and Danny McBride. Now they're reuniting with Spike Jonze — the director behind their iconic clips for "Sabotage" and "Sure Shot," and the hit film Where the Wild Things Are — for an all-new work.
According to the Beasties' blog, the trio hooked up with their "esteemed colleague" Jonze to shoot the video for "Don't Play No Game That I Can't Win," a dub banger featuring vocals from Brooklyn's Santigold (hear a hot remix here). And apparently they're producing two versions: "[Both] short and epic length videos [have been cut] for the song," Mike D reveals in the blog post.
The plot? "It is an explicit action adventure spectacular," Mike D writes. "It features action figures of us… and yes, they are ACTION figures, NOT dolls!"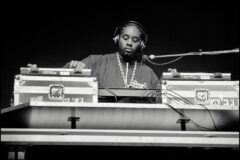 Check out the still image from the video above — looks like Beastie G.I. Joes!