After delivering a blazing set at Washington's Sasquach! Festival last weekend, Wolf Parade performed their final show before going on indefinite hiatus at Vancouver's Commodore Ballroom Tuesday night. The art-rockers' set was loaded with fan-favorites ("Kissing the Beehive," "You Are a Runner") but they finished their send-off with a raucous rendition of Dylan's "Knockin' on Heaven's Door." Check out some fan-shot footage here.
Wolf Parade have covered Dylan's 1973 classic in the past, but Monday night's version was special: Spencer Krug invited the audience to hop up onstage for what he called a "shitty cover song." At first, a few courageous fans leapt on stage before the whole thing turned into a jubilant, karaoke-style farewell to one of indie-rock's best bands. Singer-guitarist Dan Boeckner did his best to remain cool: "The important thing is that we haven't learned anything – at all – in six years, but you guys have been very nice."
With the band going on a break, Dan Boeckner will focus on Handsome Furs, his band with wife Alexei Perry whose album Sound Kapital is due out June 28. Krug, meanwhile, will release a record under his Moonface moniker on August 2.
Wolf Parade, "Knockin' on Heaven's Door"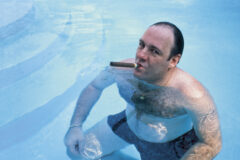 https://www.youtube.com/embed/I39ANjqs7pU