Coldplay may have released the first song from their forthcoming album last week, but at their headlining slot at this weekend's Rock am Ring Festival in Nurburgring, Germany, Chris Martin and Co. treated fans to performances of four new tunes, plus the live debut of "Every Teardrop Is a Waterfall." Watch footage here (via Consequence of Sound.)
"Us Against the World" is a quiet acoustic ballad, featuring only Martin on acoustic guitar and backing vocals from drummer Will Champion. But "Hurts Like Heaven," "Major Minus," and "Charlie Brown" are the sort of straight-up anthems that have made Coldplay famous. "Heaven" mixes glistening Edge-style guitar riffs and a hard-hitting backbeat while "Major Minus" mixes tricky tribal grooves with a fist-pumping, stadium-ready chorus and an explosive guitar solo from Jonny Buckland.
Expect Coldplay to perform many of these tunes when they headline Lollapalooza this August in Chicago.
WATCH: "Hurts Like Heaven"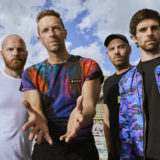 https://www.youtube.com/embed/2MYmNdnqX2Y
WATCH: "Major Minus"
https://www.youtube.com/embed/FkgjO7n-YZg
WATCH: "Us Against the World"
https://www.youtube.com/embed/tGlqmn2HSTk
WATCH: "Charlie Brown"
https://www.youtube.com/embed/x4yLwJi8vHs
WATCH: "Every Teardrop Is a Waterfall"
https://www.youtube.com/embed/B4ULKOj2EjY