SPIN's Candid Backstage Portraits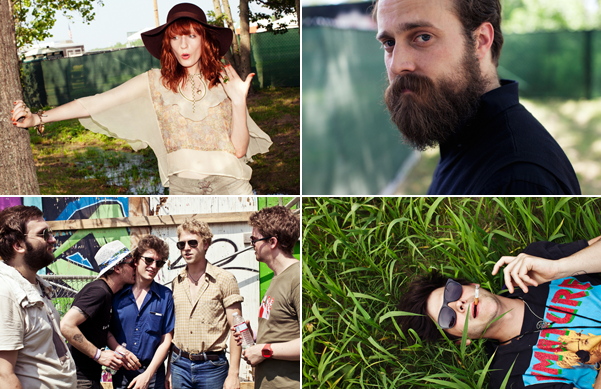 Throughout the weekend at Bonnaroo, photographer Aaron Richter and SPIN's Peter Gaston & Jennifer Edmondson traversed Bonnaroo's dressing rooms, backstage bars, and parking lots to hang with some of the coolest acts performing at the Tennnessee fest. Check out Richter's intimate images of music stars including Florence Welch, Sam Beam, and Nathan Williams of Wavves — plus, icons like filmmaker John Waters and basketball great Kareem Abdul-Jabbar.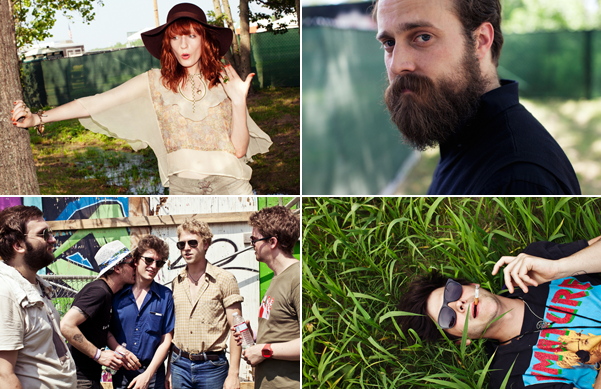 Throughout the weekend at Bonnaroo, photographer Aaron Richter and SPIN's Peter Gaston & Jennifer Edmondson traversed Bonnaroo's dressing rooms, backstage bars, and parking lots to hang with some of the coolest acts performing at the Tennnessee fest. Check out Richter's intimate images of music stars including Florence Welch, Sam Beam, and Nathan Williams of Wavves — plus, icons like filmmaker John Waters and basketball great Kareem Abdul-Jabbar.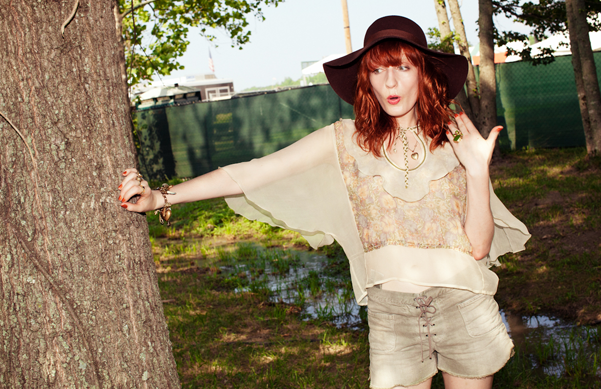 It was a sight to behold: the always stylish Florence cruising around the dusty backstage hangouts of Bonnaroo in four-inch platform heels. When we sat down to chat, Welch gushed about recording her new album at London's famous Abbey Road Studios. "We used the piano that [the Beatles] used on 'Ob-la-Di Ob-la-Da,'" she revealed. "It sounds very beautiful. I played on it. Everyone was so great. It was just a really amazing experience." Read more.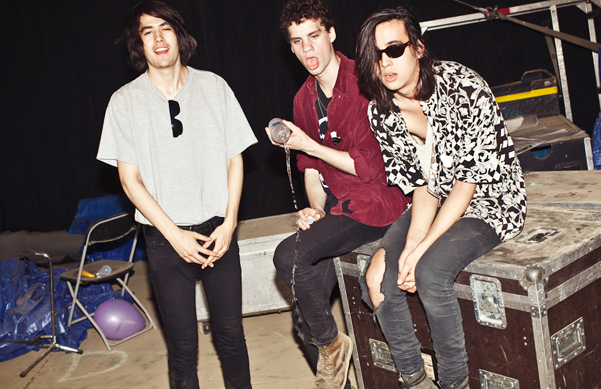 The Chicago rockers amped up their guitar solos at Bonnaroo, with splendid results and loads of cheers from the crowd. "We thought, 'Let's try to be as lively as possible,'" Cullen Omori told us after their set. "We also thought Bonnaroo is into guitars, so we went that way too."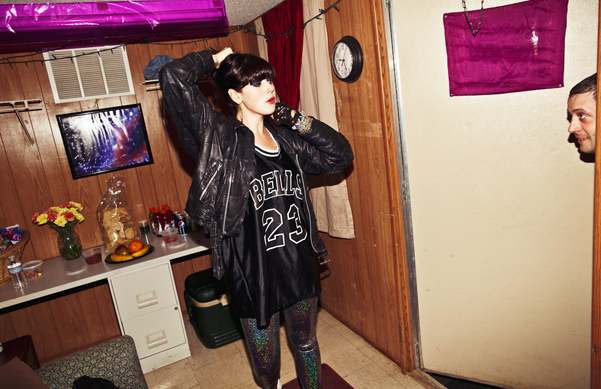 "I shot some of Sleigh Bells first press photos, maybe two years ago, and haven't seen either of them since -- though we've kept in touch via e-mail," says photographer Aaron Richter of Alexis Krauss and Derek Miller. "It was sort of surreal catching up with them. Then they were, as they had put it, 'barely a band,' and now Alexis is this incredible rock star."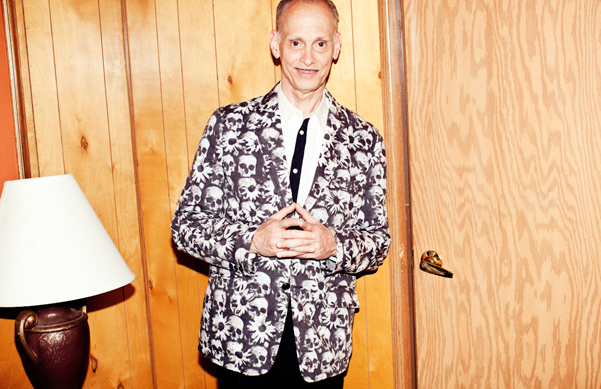 Meeting the Baltimore-born filmmaker, artist, and author backstage at the comedy tent was a sheer pleasure. Waters impressed us with his knowledge of hip Baltimore bands like Beach House and Spank Rock, and also revealed the sort of supporting acts he'd book for himself, if he were running Bonnaroo. "I'd want [Sarah Palin's almost-son-in-law] Levi Johnston, to show his penis, K-Fed, who I really like," he said. "I think it'd be great if he came out and rapped. Or a Nancy Spungen stripper." Read more.
7.JEFF THE BROTHERHOOD
7/23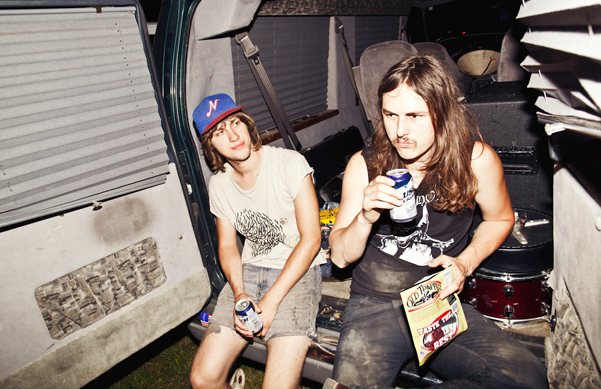 We loved watching this duo of real-life brothers from Nashville shred onstage, and we loved visiting their very humble minivan, parked among the normal people's cars in a dusty field. Here they are drinking cold beers and blasting good tunes on the van's somewhat blown out system -- one of Bonnaroo's most authentic moments.
Not so awesome: the messed up dude who approached us in the parking lot during our shoot, offering us free drugs in exchange for a new t-shirt, so he could try to sneak back into the festival unnoticed. The Brotherhood turned down the offer, but gave the kid a stained JEFF t-shirt anyway. But it was white, like the one he was already wearing, so we doubt it did him any good.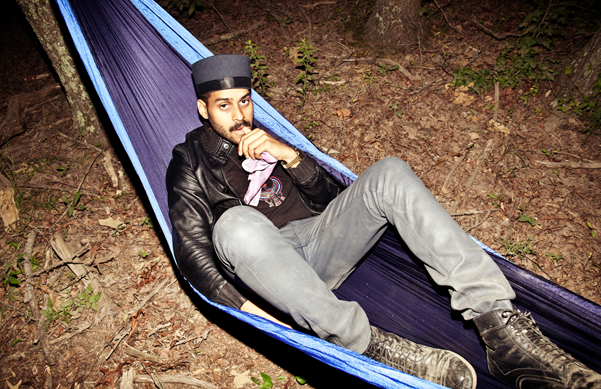 George Lewis Jr. of Twin Shadow was one of the festival's most stylish fellows, even when lounging in a hammock at SPIN's backstage campsite. And that level of cool translated onto the stage, too: "If Morrissey, Peter Gabriel, and Prince could make babies together, their progeny would almost certainly form a band and call themselves Twin Shadow," said SPIN reviewer Chris Martins. Read more.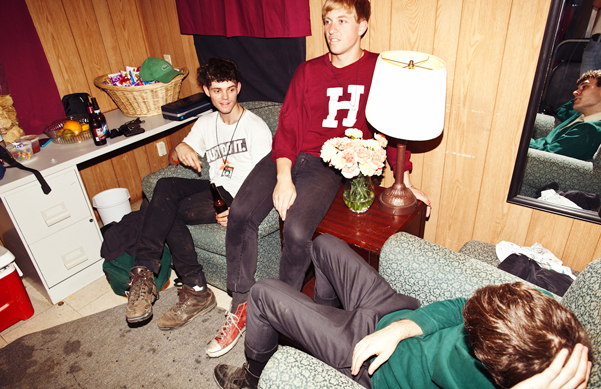 The New York act was in fabulous spirits after their opening night set, feeling like their time to shine in America has finally come after breaking through initially abroad. And soon they'll be back with a sophomore album, which they just recorded in frontman Jonathan Pierce's NYC kitchen."It's a darker album than our first," he revealed. Read more.
10.SAM BEAM OF IRON & WINE
10/23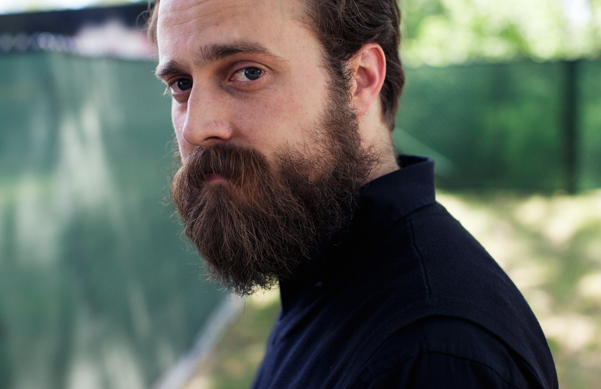 Soft spoken and considerate, Sam Beam is a true Southern gentleman, and his appearance at Bonnaroo was one of Sunday's highlights, as his band fleshed out the earnest songwriting of his earlier albums with a bold, full-bodied rock'n'roll sound. "I shifted my focus to finding joy in doing something we didn't expect we could do," he says of the evolution. Read more.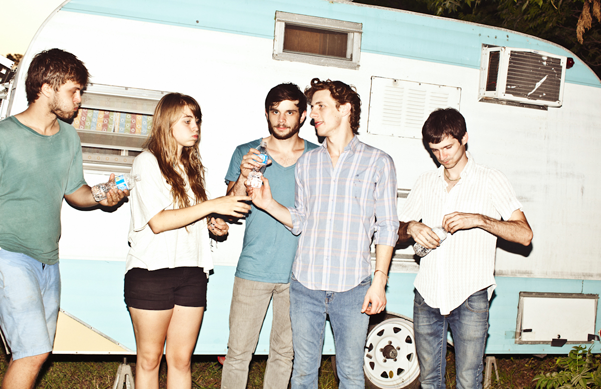 "Everyone in Givers was buzzing because Win Butler had watched their set from the side of the stage just a few hours earlier," say Richter of the Louisiana group. "After photos, we took them by the Sierra Nevada brewery's campsite to sample its special Bonnaroo brew. Then they were off to return the favor and watch Arcade Fire's Friday set."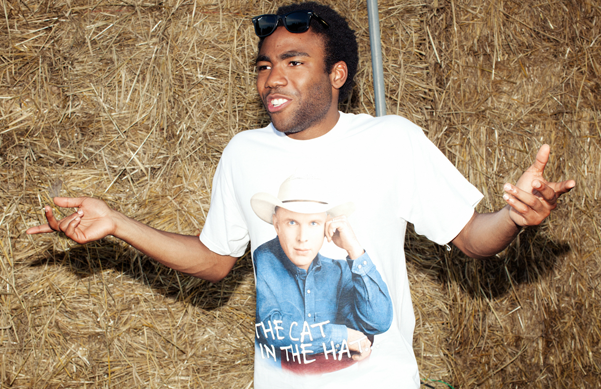 As SPIN's Charles Aaron put it, was there anyone else at Bonnaroo more worth rooting for than the actor/comedian/rapper? And he's only about to get bigger: We listened as the Community star and Childish Gambino MC talked about taking meetings with Jay-Z, while wearing this amazing Garth Brooks t-shirt he procured at a yard sale for $2. "We gave him a five and it was done," says Glover of the shirt. "Look at his face! It's so baby smooth!" Read more.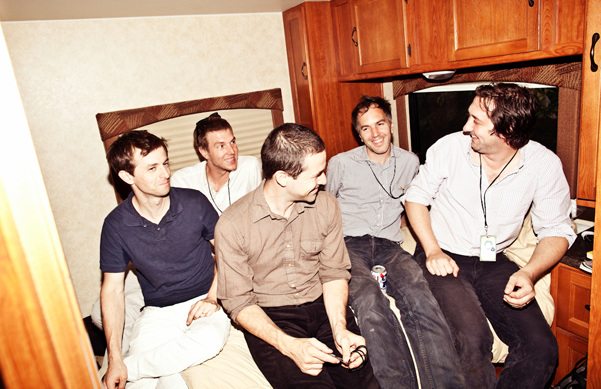 The dapper New Yorkers visited SPIN's backstage campsite for this photo, taken inside our RV. Earlier, while having a few cold ones outside, we chatted about their favorite locales in Europe, including Spain, where they just performed at the Primavera Sound festival in Barcelona, and Portugal, whose capitol, Lisbon, inspired the title of their most recent album. "The whole Iberian Peninsula has been very good to us," frontman Hamilton Leithauser said. "We do better there than anywhere else in Europe." Read more.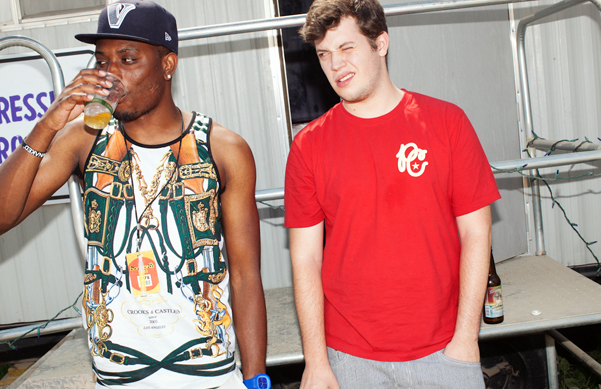 The Philly-born rap duo has a simple plan before every show. "Ten pushups followed by one shot followed by a freestyle battle between me and Chiddy followed by a prayer circle/quick moment of gratitude followed by Chiddy running out and making girls just faint," DJ/drummer Noah "Xaphoon Jones" Beresin told us.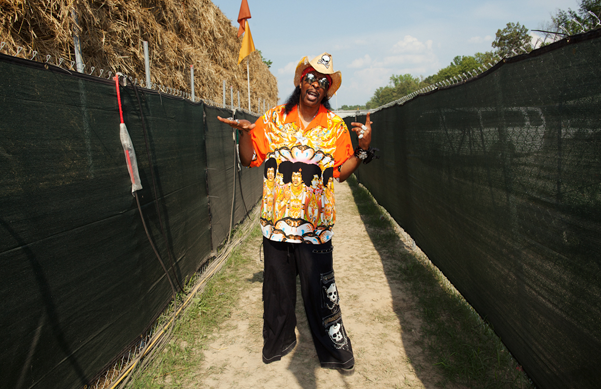 "Bootsy was impossible to miss in this get-up, and this wasn't even as loud as his stage attire for his set later in the day," says Richter. "I got a bit giddy when I saw his trademark star-shades. My first thought was to shoot him a bit more candid and personal, but Bootsy was just in love with striking poses. And really, how do you say no to this man?"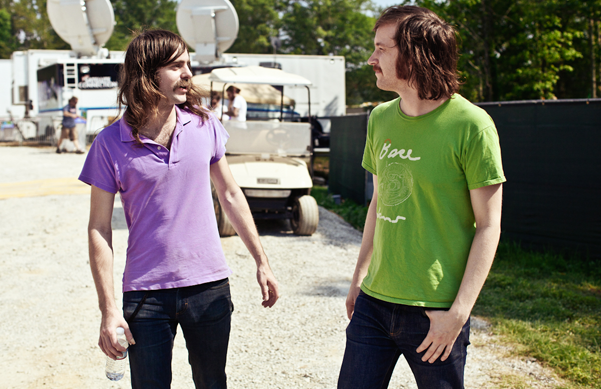 "First time I saw Ratatat was at a tiny bar in St. Louis opening up for Constantines," says Richter. "They had no stage show, no lights, really nothing onstage other than two guys trying to figure out how to play the songs they'd written for their first record live. As we talked, they clearly remembered that show as one of their worst, but I dunno. I mean, I bought the album the next day, so it couldn't have been that bad."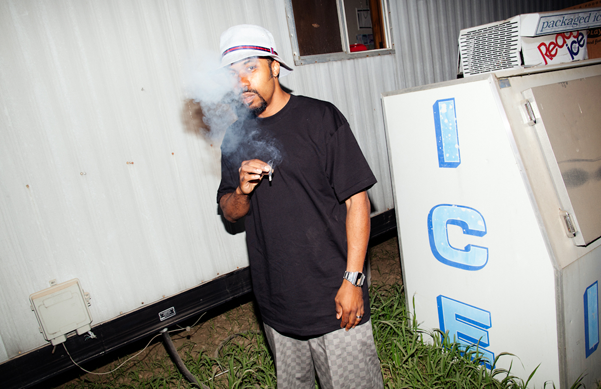 Funk master Damon "Dam Funk" Riddick couldn't have been more relaxed while prepping for his late-night set. Chilling backstage with Mazter Blazter, who perform with him live. Dam was especially excited to be playing in the South. "I love these people," he told us. "Sometimes, people say they don't know what's up, but they know what's up more than other places. They're hungry, they're attentive. They actually take the music seriously, instead of tongue-in-cheek ironic like some of the hip spots."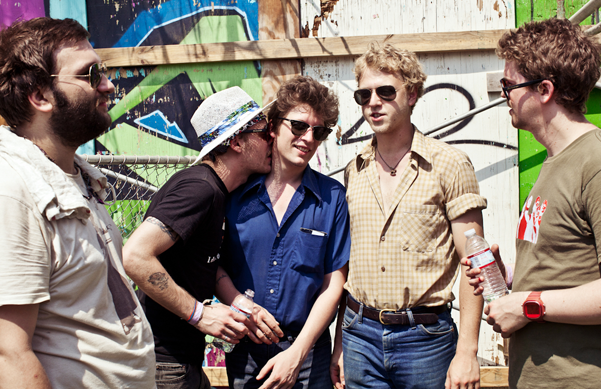 The Rhode Island rockers were doing double duty this weekend, playing a surprise Friday night show as "Deervana," doing their kickass all-Nirvana covers set on top of their regularly scheduled festival appearance. Doing the Nirvana stuff has made somewhat of an impact on the band's next record, which they say will be their loudest and heaviest to date.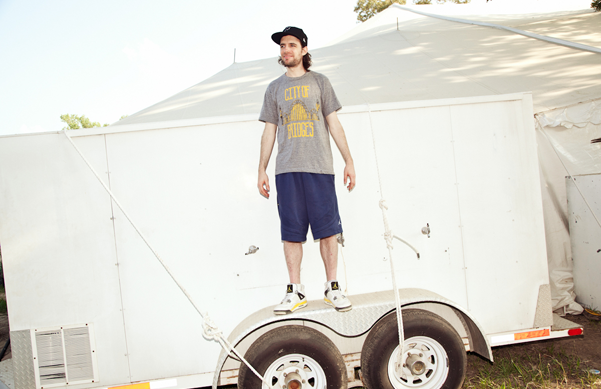 Gregg Gillis was one of our Bonnaroo favorites because he showed up with zero pomp and put on one of the most adored sets of the weekend. But his DIY beginnings are giving way to more ambitious plans. "I used to just pretend, and use arena rock tactics because it was funny, but now, I really want to put on the biggest show I can," he said.
20.KAREEM ABDUL-JABBAR
20/23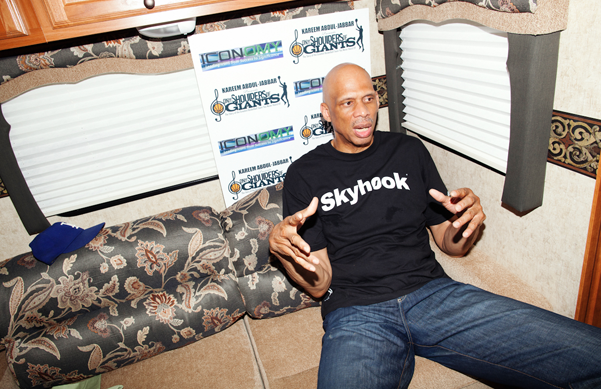 Onsite to promote a screening of the film he produced, On the Shoulders of Giants, the NBA Hall of Famer and world champion turned into the festival's biggest rock star, later stepping out onstage with funk legend Bootsy Collins. "It's so well-organized, they've got great groups here," the hoopster said of Bonnaroo. "The last time I saw Bootsy in person was 1967 or 1968 at the Apollo Theater. He's lasted that long, and I've lasted that long." Read more.
21.DEERHUNTER'S BRADFORD COX
21/23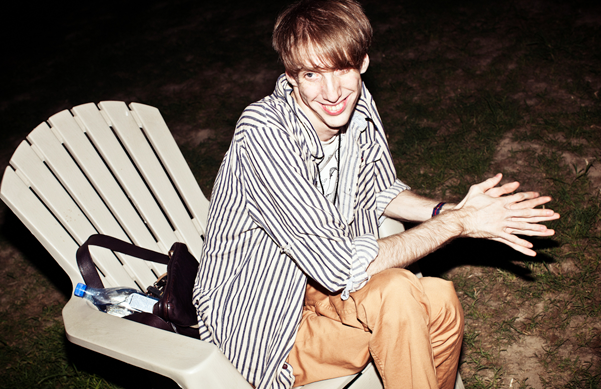 "I saw Bradford perched on a chair in the artists' area, with his legs tucked beneath him and asked if I could shoot him for SPIN," says Richter. "We shot for just a few minutes as the sun was going down. His face is sort of a photographer's dream, and I shot a few closer portraits with the warm late afternoon light, but I really just love his hands in this image."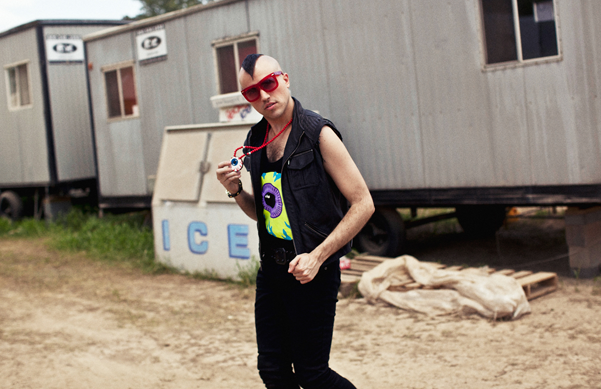 Even in the intense Tennessee heat, Tyler Glenn and company keep the style intact, although not without a little regret. "Sometimes, on days like today, we wish we dressed like Jimmy Buffett's band," he quipped. But we saw the intense frontman letting loose a few hours later, after he'd performed, rocking out sidestage while Robyn unfurled a devastating pop set.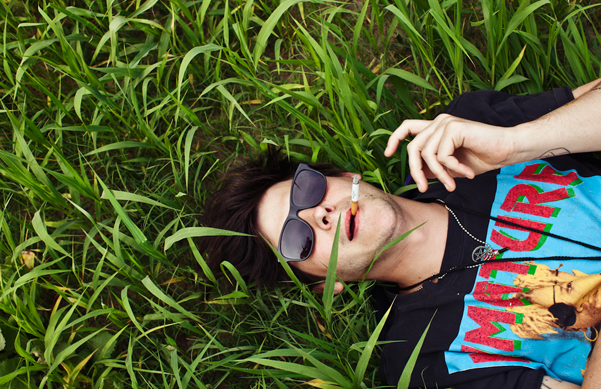 While his lady friend, Bethany Cosentino of Best Coast, hung out in his trailer (in advance of her own Bonnaroo performance the next day), Nathan Williams of Wavves sprawled out in the grassy field behind This Tent. He told us that he aimed to convert some hippies to his sunny brand of garage rock. Mission accomplished.