Rap collective Odd Future ain't afraid to shock, particularly frontman Tyler, the Creator, who's released a series of jaw-dropping videos. His pals Hodgy Beats and Left Brain have now attempted to one-up him with a gross-out new clip for "64," from their side project MellowHype. Watch it here.
"64" is an ominous, thudding banger, and the video matches the song's supremely spooked-out vibe. Director Matt Alonzo – who has helmed clips by Cypress Hill and Lil Wayne – captures the duo in an abandoned industrial warehouse that's straight out of the Saw movies. There's imagery of Hodgy in a funeral casket surrounded by snakes, a terrifying masked woman crawling on the floor of a church, and a body dangling from a noose. Creepy!
"64" will be featured on the pair's album BLACKENEDWHITE, a reissue of a digital only LP that hits on July 12.
Watch It: Mellowhype, "64"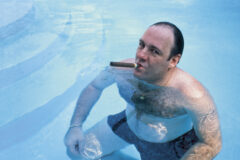 https://www.youtube.com/embed/sWMOEVdXR2o