Singer-songwriter Laura Marling won a BRIT Award for "Best British Female," earned NME's "Best Solo Artist," and was nominated twice for the UK's prestigious Mercury Music Prize, for her first two albums – all before she turned 21 in February. On September 13, she'll release her third LP, A Creature I Don't Know, on which she's beefing up her folk sound, she tells SPIN.
"This album was definitely written with the knowledge that it would be recorded with a band, the same band I've been playing with for the last year," Marling says of her 10-track follow-up to 2010's I Speak Because I Can. "In some ways the set-up of the band dictated the sound." The five-piece packs a folk punch, layering in a diverse mix of cello, keyboards, harmonium, double bass, banjo, and horns, along with the more standard electric and acoustic guitars.
Marlin also used a POG Pedal, which separates sounds into numerous octaves, both up and down, and blends them together into a fatter, more powerful sound. "I bought a POG Pedal and borrowed an electric guitar the week before we hit the studio," she adds. "We very nearly put the whole album through the POG."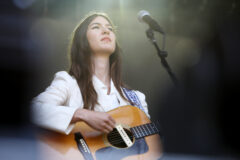 The LP was recorded at London's RAK Studios with producer Ethan Johns (Ryan Adams, Kings of Leon), who also helmed her last release. Marling previously dated Marcus Mumford, whose group Mumford & Sons played as her backing band until two years ago.
She will hit the road this summer for a UK and European tour. U.S. dates are expected in September.