For their follow-up to 2008's Off With Their Heads, Kaiser Chiefs are taking matters into their own hands: the British rockers are allowing fans to create their own version of their just-released album The Future is Medieval. The band announced the revolutionary approach to releasing music this morning, via their official website.
Instead of selecting a dozen or so tracks for a proper CD, the group has uploaded 20 songs to their site, and they're letting listeners select ten cuts to create their own unique album for a cost of £7.50 (or $12.24 in American dollars). Each fan's LP will then be uploaded onto the band's site; every time that version is downloaded, Kaiser Chiefs will toss £1 to the fan.
They chose this unconventional method of release primarily to battle piracy, after Off With Their Heads leaked online ahead of its street date. "It just seemed like bad manners, really," drummer Nick Hodgson told The Guardian. "Getting it for free – I don't mind that per se. But how much effort are you going to put into listening to something you didn't pay for?"
Each track is available for preview prior to selection, and the songs represent some of the most diverse-sounding music the band has recorded yet. "Little Shocks" is a brooding, synthed-out jam, "When All Is Quiet" is a Beatles-esque piano-powered romp, "Cousin in the Bronx" is an amped-up pub-stomper, and "Heard It Break" sounds like the best Flock of Seagulls song in years. Wondering which tracks the band likes best? Frontman Ricky Wilson's edition of The Future Is Medieval is likely the closest you'll get to the band's vision. (Proceeds from sales of Wilson's version will benefit the Alzheimer's Society).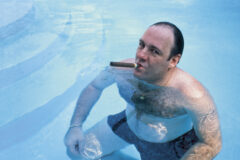 In the meantime, the Chiefs have uploaded a goofy trailer that explains the radical conceit, which you can watch here. Plus, check out the group's video for single "Little Shocks."
WATCH: Kaiser Chiefs, "Little Shocks"
https://www.youtube.com/embed/oX3yfldi7Zg
WATCH: Kaiser Chiefs The Future Is Medieval Trailer
https://www.youtube.com/embed/gfwK03tW83o