It should have been a sign that Sam Beam and his 10-piece backing band coolly strutted onto Bonnaroo's Which Stage to some vintage, Superfly-styled funk. Iron & Wine's Sunday afternoon set was one of the festival's most surprisingly eclectic, and found the Austin-based bandleader pushing his project's folksy roots into the otherworldly via bouts of soul, jazz, and Afropop.
As the band members took their places behind an arsenal of horns, percussive devices, guitars, banjos, keys and drums, a stately, suit-wearing Beam had only a few key words to share. "We got a lot of music to play," he offered in a curt-but-easy drawl, "so we're gonna get to it."
A gust of organ and voice blew forth announcing "Tree By the River" from Iron & Wine's newest, Kiss Each Other Clean. The strummed jangle, high trumpet, and buzzing baritone sax sounded more like breath than bluster — a singular sound as lush as it was languid, which made the impending instrumental freak-outs all the better.
There were slow organ-driven ramblers like "God Made the Automobile," breezy tropical numbers like "Summer in Savannah," and the yearning gospel-tinged single "Walking Far from Home," of course, but the group's greatest moments came when they let loose.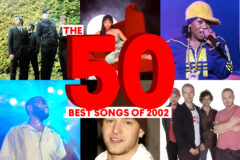 Even with all that equipment and personnel on stage, the first jam session snuck up on the crowd. "Wolves (Song of the Shepherd's Dog)" began as it normally does — with hand-hit drums and a tight bass groove — but it quickly unraveled into loose, freewheeling R&B as one of the horn players delivered an extended melodica solo that carried the track into deeply dubby territory. "Lovesong of the Buzzard," also from The Shepherd's Dog (2007), then picked up the shambling march and shaped it into warped zydeco.
Older favorites like "On Your Wings" (from 2004's Our Endless Numbered Days) and "Woman King" (from the 2005 EP of the same name) were similarly reinvented, stretched from their humble beginnings into grand testaments to the huge band's synchronicity.
Best of all was "Free Until They Cut Me Down," a onetime blues piece for guitar and voice that wound up sounding like something the Sun Ra Arkestra dreamt up. After ten minutes of minor key dissonance and dark distortion, Beam cracked a smile. "What a cool festival," he said. "When a dude with a beard can get up on stage, play a bunch of free jazz and have everyone cheer … well, it's awesome." Of course, he was right.
Setlist:
Tree By the River
Boy With a Coin
God Made the Automobile
Freedom Hangs like Heaven
Summer in Savannah
Walking Far from Home
Wolves (Song of the Shepherd's Dog)
Lovesong of the Buzzard
Big Burned Hand
On Your Wings
My Lady's House
Free Until They Cut Me Down
House by the Sea
Woman King
Fever Dream
Your Fake Name is Good Enough for Me