"[1998] was a beautiful time all the way around in hip-hop. The album I released that year, Vol. 2…Hard Knock Life, was the biggest record of my life. The opening week was unreal for me — we did more than 300,000 units, by far the biggest opening number of my career at that point. The album moved Lauryn Hill down to No. 4, but OutKast's Aquemini was right behind me, and [A Tribe Called Quest's] The Love Movement was number three. Those four albums together told the story of young black America from four dramatically different perspectives — we were bohemians and hustlers and revolutionaries and space-age Southern boys."
That's Jay-Z from Decoded, providing a pretty succinct response to the myth that hip-hop started dying out and getting dumber after 1997 rolled around. Not that rap stayed the same — going mainstream dramatically changed the landscape — but it was transitioning into the future pretty effectively, finding room for the gritty street tales of Jay-Z and DMX, the Bruckheimer-budget party rap of Puffy, plus a visionary female MC and two rapping-ass weirdos from Atlanta.
Check out 'The Death and Resurrection Of Conscious Rap, Pt. 1' here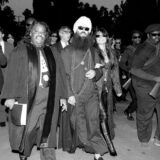 Lauryn Hill's superstar rise certainly made all the hip-hop doomsday predictions look pretty silly, but her fame was also a reminder that conscious rap hitting the charts was problematic. Even before The Miseducation Of Lauryn Hill arrived, the industry was pulling Hill in many directions. "To Zion," a celebration of her first son, chronicles the industry types and friends who advised her to abort her child for the sake of her career. With the album's release and the success of "Doo Wop (That Thing)," Hill was expected to generate lots of money and become some sort of voice of the people — and that's pretty horrifying.
Conscious rhetoric began to relax in The Miseducation's wake, perhaps because Hill's success was a warning of what happens when a message rapper blows up, but also because conscious rap was now its own brand, with its own well-established audience. In 1999, rather tellingly, Common changed his approach. Appearing on the Roots' "Act Too (The Love Of My Life)" off their album Things Fall Apart, he came to terms with rap's success: "As of late, I realized, this is H.E.R. fate." In 2000, "The Light," a J. Dilla-produced song from his own Like Water For Chocolate, would be nominated for a Grammy.
Rawkus Records, perhaps the quintessential late-'90s underground label, released the conscious classic Mos Def & Talib Kweli Are Black Star the same year A Tribe Called Quest split up (1998), and even had a couple of commercial hits by the end of the decade: Pharoahe Monch's "Simon Says" cracked mainstream hip-hop/R&B radio and Mos Def's Black On Both Sides went gold by 2000. In 1999, Def Jux was formed by "independent as fuck" El-P of Company Flow after that child-of-the-Bomb-Squad producer left Rawkus because of money disputes. In the early 2000s, Def Jux — turned Definitive Jux after a Def Jam lawsuit — released complex and meditative indie-rap albums from Cannibal Ox, Aesop Rock, and RJD2, gainingcritical acclaim and becoming something of an alternative to the alternative.
Conscious rap even sneaked onto television. For two years, starting in 2000, MTV aired a sketch comedy series called The Lyricist Lounge Show, based on a New York open mic event that catered to underground MCs. In early 2003, The Chappelle Show premiered on Comedy Central, offering guest spots to conscious rappers like Mos Def, De La Soul, and Slum Village. In October 2004, rap magazine XXL put Chappelle on the cover along with Kanye West, Common, Talib Kweli, and dead prez. That same year Chappelle held a free concert in Brooklyn featuring a bill of conscious rappers, including a reunited Fugees. The concert was filmed for a Wattstax-like documentary called Dave Chappelle's Block Party, perhaps the definitive conscious rap document of the aughts. But Chappelle, like Hill, was so overwhelmed by success and the burden of a socially conscious reputation that he fled to travel through South Africa.Continue reading 'The Death and Resurrection of Conscious Rap Pt. 2' on page 2 >>
At the same time, OutKast were on their way to becoming one of the most successful rap groups of all time. Andre 3000 and Big Boi also could've been classified as conscious superstars, but they found ways to avoid the next-great-savior label. Savvy and realistic, they were dedicated to digging through issues rather than preaching answers. On "Ms. Jackson," their 2002 hit about the complexities of a break-up when a child is involved, Andre 3000 respectfully apologizes to his ex's mother for any problems he's caused, while Big Boi angrily goes off, believing that he's the one being fucked over in the situation. These were their respective roles: Andre, the sensitive, searching avant-gardist, and Big Boi, the occasionally empathetic hustler posted up at the shake club.
OutKast implicated themselves in "the struggle" and wisely communicated to the audience that they too were works in progress. This has something to do with the political disposition of the South, I think. Conscious rappers up until OutKast were either East or West coasters (save for Common and Slum Village, from the Midwest) and though the Black Panther party actually started in Alabama (see: The Lowndes County Freedom Organization), there's a sense that the South, unlike the East and West, is not quite as indebted to the Panthers' confrontational politics. Rather than Malcolm X's "by any means necessary," the prevailing attitude of OutKast is Martin Luther King's hopeful, humanist appeal that "I may not get there with you." Even OutKast's silence since 2006's Idlewild, though frustrating, isn't as surprising as Hill's career stumble, because OutKast never seemed to promise hip-hop salvation.
This humanist attitude towards politics defines Southern rap. Sure, the region has always produced silly dance songs and strip-club anthems, but sometimes, the strip-club anthems have been thoughtful too. Juvenile's bouncing New Orleans rap track, "Ha," from 1998's 400 Degreez, was as morally serious as any conscious single. Juvenile describes a thugged-out waste of life and follows up each line with a mocking bark: "That's you that can't keep your old lady, because you keep fuckin' her friends? Ha!"
This balance between the visceral and the thoughtful is normal in Southern rap (see OutKast peers UGK, 8Ball & MJG, and others), and the "I may not get there with you" approach was absorbed by the next generation of Southern rappers who dominated the charts during the aughts. T.I., Lil Wayne, Young Jeezy, Clipse, and plenty of others weren't exactly dropping knowledge, but their music was wracked with guilt and confusion, which had its own edifying qualities, for sure. And they felt comfortable taking that mentality into the clubs and turning it into mainstream hits.
The most significant, overtly conscious rappers of the 2000s came from the South, also. North Carolina's Little Brother — MCs Phonte andBig Pooh, and producer 9th Wonder — were hip-hop traditionalists, but they didn't have much interest in towing any party line. "The Yo Yo," from their 2003 debut The Listening, is a devastating satire of highfalutin' poetry slams. "So what's the reason for the hating?" asks Phonte, and then throws out a battle-rap line aimed at the righteous: "Niggas with dreads calling theyself Gods with white girls named Caitlin." The song ends with Phonte threatening to read Trick Daddy lyrics at next week's coffee klatch.
Little Brother's career was an attempt to dead all this hyper-serious, voice-of-the-people talk. They spoke for themselves and nobody else. When they signed to a major label in 2005, they made a Chappelle-like concept album about the corrupt, racist music industry and well, they had the balls to call it The Minstrel Show. It's easy to see Little Brother's actions as self-sabotage, but they were an awesome reminder of what "underground" meant before alternative rap became a brand. The group's contrarian approach would be massively influential on hip-hop's next generation.
Most notably there's Kanye West, a peer of Little Brother and, like them, a product of the '90s conscious rap era; and frankly, someone who wouldn't exist without Little Brother's knowing snark and brash honesty. College Dropout was an affront to dogmatic underground hip-hop heads and a challenge to mindless mainstream fans. "First nigga with a Benz and a backpack," Kanye boasts on "Breathe In, Breathe Out," smashing rap's longstanding binary. He made an end-run around conscious rap's expectations by getting real about his vices while staying passionate about conscious concerns too. Indeed, telling a live audience that "George Bush doesn't care about black people," is an underground, conscious-rap gesture performed on a grand stage.
Kanye is conscious rap's biggest superstar and he's inspired nearly every non-dope boy rapper since 2004. Lil Wayne's shift from word-happy hustler to say-anything rap genius wouldn't have happened without Kanye's breakthrough. Conflicted youngsters Drake and J. Cole fuse Little Brother's average-guy intensity and Kanye's wounded narcissism, while Internet generation stars like Odd Future and Lil B (obnoxious nerds with a lot to say), are pretty much young Kanye West with a Wi-Fi connection.
Next week, in part three: Thanks to Kanye, declining record sales, and the Internet, conscious rap starts to rise again with young, thoughtful, conflicted voices like Big K.R.I.T., Freddie Gibbs, G-Side, Jay Electronica, Stalley, Blu, Homeboy Sandman, Yelawolf, and others seemingly emerging in the blogosphere daily. I'll focus on two personal favorites: K.R.I.T. and G-Side affiliate Kristmas.