After a historic debut and hype that would have undone lesser bands, Alex Turner and mates' fourth album in five years proves they're only getting better, if not quite bigger. If this were as easy to do as they make it sound, how come so few others have?

Alex Turner was watching closely earlier this year when Mick Jagger shimmied and vamped across the Grammy Awards stage in a metallic emerald tuxedo jacket, skinny black trousers, and a bulky pair of sneakers. The footwear choice was not lost on the Arctic Monkeys' 25-year-old frontman. "I like his Nike Air Max," Turner says, sitting in an upscale Manhattan restaurant and offering his closest approximation of a full grin from beneath a haircut that's evolved from a Joan Jett shag into more of an homage to Jagger's own circa-'69 mop. "You get to that age, and it's like, 'Fuck boots.'?"
Dressing for comfort may be one measure of success. If there are others, the Arctic Monkeys would prefer they not involve numerical tallies — of record sales, bank account balances, Twitter followers. "We are and always have been quite disconnected with that whole world, be it MySpace or whatever the new one is," Turner insists. Uh, Facebook? "Yeah, that one."
This statement is especially eyebrow-raising considering the Monkeys' triumphant arrival was all about the Net and numbers. Stoked by online buzz, they sold 363,735 copies of 2006's Whatever People Say I Am, That's What I'm Not in its first week in the U.K. alone, giving them the first of three No. 1 albums and the fastest-selling debut in the country's history. Not even the Stones can claim that, boots and all. But the Arctic Monkeys were the last ones to believe the copious Arctic Monkeys hype — they stayed out of the tabloids and police blotters, kept writing songs instead of reading press, and changed things up just enough to keep themselves engaged, but without alienating the people who rocketed them into the record books.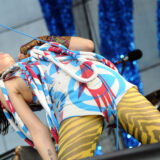 Five years, four albums, and countless canny decisions later, Arctic Monkeys — which also includes guitarist Jamie Cook, drummer Matt Helders, and bassist Nick O'Malley, all of whom are also 25 — are bona fide rock stars whether they like it or not. They've headlined Glastonbury (a distinction recently shared by U2, Bruce Springsteen, and the Who). Turner has a beautiful, famous girlfriend (model and former MTV host Alexa Chung). "He's the sort of person who reads the dictionary at night," Chung recently lamented to Vogue. "I'm like, 'Dude, you're 25. Let's go to the pub.'?"
"If you want to write anything like I bought a Ferrari or a G6, that's fine," O'Malley says shortly after admitting his biggest indulgence has been a modest-sized house. "I've got a leopard-skinned Ferrari. Everyone wants one, but only I've got one." Fibbing to the press, however, is not one of the Seven Habits of Highly Successful Primates. Or is it?
1. LIKE EACH OTHER, FOR FUCK'S SAKE
"We're a well-adjusted band, really. There haven't been any major quarrels; there haven't been any minor quarrels," O'Malley says. "Growing up in the same village [near Sheffield], we've got the same friends and the same sense of humor." The bassist says they bring their pals on the road with them to help demystify the lifestyle. "It's like you work on an oil rig, but a lot more fun than that."
"For some bands, it seems like such a chore for them to get together and make a record," adds guitarist Jamie Cook. "I always think, 'Why do they carry on?'?"
Ironically, when the Monkeys first got their hands on instruments, they bonded over the Strokes. Now both acts are promoting their fourth record — only it's taken the Englishmen half as long to hit that milestone, and with none of the melodrama. But to a man, the band members artfully demur rather than take the bait for an old-fashioned beef. And speaking of: It's hard to summon a mental picture of Julian Casablancas ladling up gravy for Albert and Fab and the boys, but the Monkeys often sit down to dinners that Turner calls the "Monkeys roast."
"I'm still nothing to shout about in the kitchen," he says sheepishly, in a brogue that recalls Darrell Hammond's Sean Connery. "But me and Matt have been doing sort of the roast-beef-and-Yorkshire-pudding traditional Sunday roast."
2. LEAVE YOUR COMFORT ZONE
Part of the Arctic Monkeys' charm has been their ability to gingerly coax listeners into deeper waters on each subsequent album without making the kind of Big Artistic Statement that sometimes sends folks rushing for the lifeboats. And around the time they began working on 2009's Humbug, Turner had a serious epiphany: "I started to see songwriting like a craft and I really wanted to try to be good at this." On the just-released Suck It and See, he says, the band made another discovery: "The three other strings on the guitar."
Turner began listening to Roger Miller, Nick Cave, Leonard Cohen, and John Cale. "The Velvet Underground's pop tunes still have got that dark to them," he says. As do great country songs, like Turner's favorite, George Jones' "Relief Is Just a Swallow Away." "I imagine you write a line like that, and you're like, 'Right, well, that's the tune, I just need to fill in the bits around that line,'?" he says. "I wanted to take something from that."
That's how "Don't Sit Down 'Cause I've Moved Your Chair" was born. "We were in the studio and I pulled someone's chair out," Turner says. "[Producer] James Ford said, 'Oh, that'd be a good name for a tune; it sounds like an old Nuggets garage tune.' I went, 'All right, I'll get to work on that.'?"
3. FIND YOUR PLACE IN, OR OUT OF, THE SUN
The Arctic Monkeys arrived wrapping stories about small-town ennui in blitzes of dancey punk on Whatever People Say I Am, That's What I'm Not and dished out a meatier version of the same on 2007's Favourite Worst Nightmare. Then Queens of the Stone Age kingpin Josh Homme brought them to his Rancho de la Luna studio in Palm Desert, California, for Humbug, a creepy, cranky, keyboard-heavy ten-song set. While Homme's influence is still evident on Suck It and See (especially the hazy "All My Own Stunts"), the Monkeys realized that Englishmen aren't well suited to desert life. The latest is a sturdy, gimmick-free rock album helmed by Ford (who also produced the first two albums) and recorded in a cactus-free region of Los Angeles.
"Everything was tightly wound," Turner admits of the band's early days, when he'd wear his guitar chest-high. The desert helped them uncoil and discover his inner crooner, but, he says, "We don't want to get any looser."
So where exactly does England's most celebrated and articulate storyteller since Jarvis Cocker find his muse? "If you try to create this perfect studio or room where you write, you always end up never able to write in it," he says.
"Balconies don't work very well for me. Especially ones by water; I wrote some terrible songs in those situations. Something about New York is pretty good. I don't know if it's to do with the grid system or something — you know where you are within it all the time. Also, being up a few levels doesn't hurt either — not being on the ground floor. As long as it's without a balcony. The fourth floor, not with a balcony. But maybe with an option to walk out on the balcony."
4. LISTEN TO YOUR ELDERS (WHEN THEY TELL YOU NOT TO DRESS LIKE BOZOS)
"We once dressed up like clowns and played on an English talk show," O'Malley recalls of a July 2007 appearance on Friday Night With Jonathan Ross. "We got makeup and clown costumes, and Paul Weller told us he didn't like that idea. He said he liked our songs but he found it ridiculous. He's a very well-dressed man so you've got to take his advice, I suppose. I don't know if he got the joke we were going for, but never mind, he's a very well-dressed man."
5. TURN TOWARD YOUR FEET FOR INSPIRATION
The band expend so much effort brainstorming album names, 2007's Favourite Worst Nightmare easily could have been known as Lesbian Wednesdays or any of the other 36 titles they'd generated. "Every day we talk about and think about it a lot," Helders says, revealing Suck It and See emerged after the band agreed to think up names for things other than albums.
"We were like, what can we try to name? Fuzz pedals always have quite colorful names," Turner says. "I've got one called the Valveslapper. Cook's got one called the Fuzz Cannon." This brainstorming session yielded Blondo Sonic Shimmer Track. "I quite like them because they sound a bit like Tom Wolfe titles," Turner says. Runner-up Thunder Suckle Fuzz Canyon found its way into the lyrics of "Library Pictures."
6. DON'T LOOK BACK (AND/OR DON'T ADMIT TO LOOKING BACK)
The Arctic Monkeys may have had one of the most thrilling ascents of any young band in the past 25 years, yet all the members claim to remember almost nothing about it. Cook only has the vaguest memory of headlining Glastonbury in 2007, just a year and a half into their career. "Probably the scariest thing I ever did," he says. "I remember walking onstage then walking off, and it seemed like two minutes." But to hear Helders say it, that fuzziness served them well, as they're not particularly beholden to or romantic about the period. "It was going quite quickly, we didn't have time to reflect on it too much," he says, "or get too used to it."
Defense mechanism or not, it's hard to believe someone as poetically gifted as Turner can't come up with a way to articulate the joys of being able to write music for a living while his friends from home are still working normal-people jobs: "Um…wow, yeah. Um. Let me think. I don't know. I don't know, Caryn. I'm stumped there."
7. DON'T LOOK AHEAD, EITHER
Want to make the Arctic Monkeys laugh? Ask them about their plan. "We really have got no plan at all about how many records or how long we'll go," O'Malley says.
When asked what bands they would emulate so as to continue having the kind of career that's measured in decades, not years (or blog posts), Cook offers, "Kiss — they'd be a good model. Start doing Arctic Monkeys coffins and shit like that."
"Not really anyone," Turner responds, with no trace of even a half-grin. "Because they all end up hating each other, don't they? I can't imagine being in me 60s playing. I'll try to keep the boots on as long as I can. I'm saying that now. Who knows how I'll feel."