Bonnaroo continued on Saturday with sets from hip-hop's hottest newcomer Wiz Khalifa and Neil Young and Stephen Stills' reunited '60s band Buffalo Springfield. But there were plenty of other highlights. Here are our Top 5:
EMINEM AT THE WHAT STAGE
It's hard to imagine a performer whose entire aesthetic is less compatible with the communal, peaceful, howdy-neighbor vibeology of Bonnaroo. Still, after Eminem arrived early to the site, there was chatter that he'd get into the festival's collaborative spirit and join other artists onstage. But that never materialized, and when Slim Shady emerged from the wings just after 11:30 PM Saturday, alongside hulking sidekick Mr. Porter, he was not about to entertain any sort of when-in-Manchester attitude adjustment.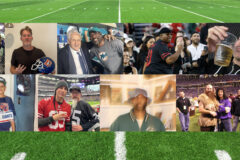 Wearing camo cargo shorts and a black hoodie hanging loosely over a promotional t-shirt for his Bad Meets Evil project (with fellow Detroit MC Royce Da 5'9″), Em launched into a ferocious version of the guitar-heavy counterpunch "Won't Back Down" (from last year's Recovery); his eight-piece group bashed away as if they were being paid by the amount of damage they could inflict on their instruments. This aggro approach – two drummers pounding furiously, two lead guitarists screeching relentlessly – made sense for the chin-out defiance of "Won't Back Down." Yet almost perversely, the bombast never flagged, restructuring virtually every song as a '70s arena-rock crescendo.
Within that limited format, certain songs benefited more than others: Bad Meets Evil's "Lighters" gave Royce a chance to prove he could hold 70,000-plus rapt with his knotty autobiographical verse (he could – plus a smirk!); and "Like Toy Soldiers," with its litany of Eminem's old rap feuds, actually resounded more like a newly urgent battle hymn. Unfortunately, contrary to rumors, there were no guests appearances (no Lil Wayne or Nicki Minaj); at the end of the day, Bonnaroo be damned, Eminem stalks alone. — CHARLES AARON
THE LOW ANTHEM AT THE THAT TENT
Dressed like homesteaders and uniformly coated in the ubiquitous Bonnaroo dust, the Low Anthem took the stage looking like apparitions from a bygone era. Indeed there was ghostliness and grit to the quartet's sad, homespun songs, which seemed more the work of Appalachian savants than Rhode Island virtuosos.
Singer Ben Knox Miller wore his hair in a pair of utilitarian braids, sitting at a keyboard marked "This Machine Kills Solipsis" as he led the band through a stark version of the old Rev. Gary Davis blues tune "Sally, Where'd You Get Your Liquor From?" Their own music ran the gamut from gospel stompers to careening calliope to ambient meditations, but every last bit was soulful and bewitching. They huddled up around the microphone for taut beauty "Charlie Darwin," and spread out for the rollicking "Hey, All You Hippies!" They swapped clarinets, singing saws, French horns and strange cymbals, and even invited renowned Kentucky cellist Ben Sollee up to perform on "This God Damn House."
But the stunning set's best moment came about halfway through, on "Home I'll Never Be," when Josie Adams let loose an incredible rasping, twanging wail belied by her general waifishness. By the time the final echo of that outburst faded from the tent, there were glassy eyes all around, and about a half-dozen tales of old spirits by old souls left to go. — CHRIS MARTINS
GOGOL BORDELLO AT THE OTHER TENT
In the early hours of Sunday morning, multinational gypsy punk crew Gogol Bordello threw the kind of show that could pretty much only be described as a bar-mitzvah-turned-rave. The unwieldy band — nine members to begin with — added Brazilian-American worldbeat crew Forro in the Dark to its ranks, and from 2:30 until nearly 4 A.M. beamed an ecstatic swirl of Balkan folk, Jamaican dub, Latin groove, English punk, and Spaghetti Western sounds into the audience.
The thousands who'd gathered responded in kind, sending wave after wave of crowd-surfers at the band, swinging gigantic homemade flags overhead, and constantly pogoing as they shouted "Hey! Hey! Hey!" in time with breakneck rhythms. It all would've seemed militant if it wasn't so much fun, and fans had frontman Eugene Hütz to thank for that. The charismatic singer ricocheted around the stage with wild eyes (and an even wilder mustache), inspiring blissful chaos everywhere he went. Stagehands sprinted, ducked, and dove to save falling microphones and tangled cables, and at one point, Hütz hopped onto a speaker, sent his acoustic guitar spiraling over his shoulder and demonstrated some perverse version of the Macarena. Still, no moment was bigger than Gogol's finish, which rolled the Beatles' "Girl" into the band's biggest hit, "Start Wearing Purple." By the end, Hütz' remaining clothes were soaked in sweat and red wine as he led the crowd in a chant of the song's chorus that was probably audible a county away. — C.M.
OMAR SOULEYMAN AT THE OTHER STAGE
Eminem may have been the most constitutionally unsuited performer to embody Bonnaroo in 2011. But Syrian folk-dance-pop maverick Omar Souleyman was certainly the most unlikely, and after his casually eccentric performance late Saturday night, he may be remembered as the festival's most intriguing character.
In Syria, where Souleyman's chaotically techno-riddled version of traditional party music ("dabke") has produced hits since the '90s, he is dismissed by some as a kitschy blight on his country's folk traditions. Intoning Mawwal-style vocals and poetic lyrics in a rough croon over a pitchshifted delirium of keyboards, oud, reeds, and other Arab instruments (created primarily by producer Rizan Sa'id, who appeared onstage behind a rack of Korg synths), Souleyman paced purposefully back and forth, lightly clapping, blowing kisses, and smiling genially. Decked out in a white body-lengthjellabah and a kaffiyeh, sporting what some have called "hitman" shades and moustache, he literally seems to present himself as a potentially shady, yet eminently approachable frontman for some clandestine international pop overthrow.
Ultimately, even with a translator in tow on tour, Souleyman's message remains inscrutable. But musically, the booming 808-style kick drums, frantic congas, tablas, and contorted Arabic sound effects speaks a profound booty Esperanto. Beyond that, perhaps the joke's on us, but considering our fraught, one-dimensional relationship with the Arab world, maybe we should embrace the enigma. — C. A.
BLACK KEYS AT THE WHAT STAGE
This Ohio duo do one thing, and they do it very, very well: They play gritty blues-rock. Straight up rippin' roadhouse guitar riffs, rollin' drum beats, and yearning lyrics about fast women, played with the conviction of men with freshly broken hearts. Their 2010 album, Brothers, debuted at No. 3 on the charts, provided songs for Victoria's Secret and other TV spots, scored them a SPIN cover – and the Grammy for Best Alternative Album.
They served their sound up neat in a shot glass from the What Stage on Saturday night. Brothers' "Howlin' For You," "Tighten Up," "Everlasting Light," and "Next Girl," the set's highlights, all growled with garage-blues distortion and cutting leads. A bassist and keyboardist joined to beef up a few jams, including a cover of "Act Nice and Gentle" by the Kinks. But it was otherwise just drummer Patrick Carney and guitarist Dan Auerbach, the latter relaxing in his extended backyard since his move to Nashville to open a recording studio and produce artists like Jessica Lea Mayfield. Let's hope their next album follows the same formula. It works. – WILLIAM GOODMAN