After releasing two albums with major label Jive, agit-rockers Living Things are going indie with the formation of their own record imprint Brotherly — and they've got ambitious plans to release a 27-track, triple-disc record titled this year, with help from studio legend Steve Albini.
"We're doing the entire thing by ourselves," frontman Lillian Berlin tells SPIN. "Two of the nine-track albums we're gonna produce, and we're going to have Steve do the third one. These days, you can just download a single if you want it, but I still listen to entire albums, and I think we're going to put it out as just one massive file."
Berlin says the new material was inspired by a cross-country road trip he took recently and the record will follow a concept that explores the American condition in the 21st century. "I collected all these stories from people about the current economic depression, unemployment, home re-possessions," he says. "All these people were just saying 'Why am I so unhappy?' A lot of my friends are unemployed and the new boss [President Barack Obama] is acting just like the old boss [President George W. Bush] — there's so much shit going on in America that I just had to write about it."
Before they release the record, which Berlin hopes to have out by October, Living Things have produced a stunning video for the new song "Pollen Path," which is featured on a free downloadable mixtape Malocchio. (Grab it for free at their official website). The clip was directed by Berlin's wife, Floria Sigismondi, who has directed videos for the White Stripes, David Bowie, and Marilyn Manson.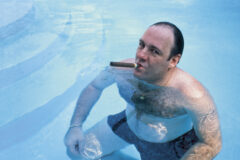 The inspiration? The couple's daughter, who stars in it. "She was describing this really vivid dream and we were like, 'Wow, that sounds like a movie,'" says Berlin. "Being the artistic household we are, we talked about bringing her dream to life." And they did: the graceful, Dali-esque clip is a haunting, 7-minute epic, featuring their daughter dancing in falling glitter and wandering around an abdandoned beach littered with decaying bedroom furniture, puppets, and a broken clock.
WATCH: Living Things, "Pollen Path"