It was another good evening for late night TV performances: The Kills, Iron and Wine, and up-and-coming British MC Tinie Tempah all brought electric performances to the small screen. Watch their performances here (via The Audio Perv).
The Kills, who appeared on Last Call With Carson Daly, benefited by performing in front of a larger audience at Los Angeles' The Musicbox – it was a pre-taped spot – and singer Alison Mosshart proved yet again why she's one of rock's best frontwomen, convulsing across the stage with reckless abandon during recent tunes "Satellite" and "Future Starts Slow."
Iron and Wine frontman Sam Beam, meanwhile, offered up soothing grooves (and showed off a trimmed beard) with his stirring ballad "Tree by the River," from his latest album Kiss Each Other Clean.
And in his national television debut, British rapper Tinie Tempah tore through his smash anthem "Written in the Stars," which is poised to be one of the biggest hits of the summer.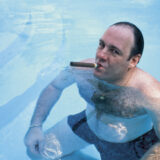 The Kills, "Satellite"

The Kills, "Future Starts Slow"

Iron and Wine, "Tree by the River"

Tinie Tempah, "Written in the Stars"