Over six albums, Okkervil River frontman Will Sheff has proven himself to be one of America's finest new songwriters – a Dylan for the Facebook generation. That's certainly the case on the band's latest disc, I Am Very Far, which hits stores next week but is streaming over at NPR. Head here to listen to it.
For I Am Very Far, Sheff took control of the production, and the result is the group's knottiest collection of songs yet. As we note in our 8 out of 10 review of the LP, "[Sheff] places a greater emphasis on mood and slow-burning groove than ever before. Complex melodies unfold slowly, and the drums are mixed so loud and dry that the snare on 'The Valley' opens Far with a virtual smack in the mouth."
Elsewhere, the group indulges in lush Phil Spector-style arrangements on tracks like "Wake and Be Fine" and "Rider," which were cut using a whopping seven guitarists and dual drummers, bassists, and piano players: "The results are simultaneously raw and symphonic, always ascending higher while on the verge of total collapse."
Okkervil River also recently preformed their new album in its entirety live for NPR, at an intimate gig in Austin, TX. Check out that video below, and revisit SPIN's extensive interview with Sheff, where he breaks down secrets of the record.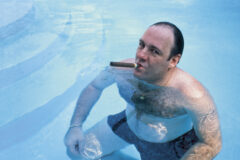 WATCH: Okkervil River Debut I Am Very Far Live