Dr. Dre found the perfect home for the world premiere of "Die Hard," a ferocious fight anthem from his upcoming album Detox featuring Eminem: the boxing ring.
The song — the third single from the rapper-producer's decade-in-the-making LP, expected to drop in 2011, though it's still without an official release — debuted Friday night during the Showtime series Fight Camp 360°. Watch the video and hear the track over at Showtime. The TV special goes behind the scenes to document the preparations for the welterweight championship fight — held Saturday, May 7, in Las Vegas — between boxers Manny Pacquiao and "Sugar" Shane Mosley.
Though the clip isn't the official "Die Hard" music video, it might as well be: Over a crushing beat and icy synth pulses, Dre spits, "My life is like a highlight reel." Em replies, "We just keep going cuz the die hard won't go down without a fight."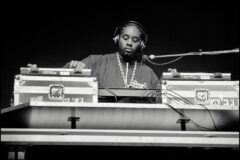 Meanwhile, the two boxers flaunt their skills by sparring with their trainers in the ring, and boast about the then-upcoming match: "I'm a dangerous fighter," said Mosley. "This will be the most dangerous fight Pacquiao will even be in." Turns out it wasn't: On Saturday, Pacquiao had Mosley on his heels, scrambling across the ring in full retreat from the Filipino fighter's speed and force. Pacquiao unanimously outscored Mosley over 12 rounds.