After two years of touring behind Mastodon's prog-metal epic Crack the Skye, guitarist Brent Hinds is gearing up for a big return this year: The heavily tatted frontman has worked up two records with his side-projects West End Motel and Fiend Without a Face — and is putting the finishing touches on Mastodon's fifth album, due out later this year.
"It's very close," he tells SPIN of the Mastodon LP. "I have two guitar solos left to record, and one or two vocal parts and a couple of keyboards and that's it."
For the follow-up to Skye — a loose concept album about Tsarist Russia that remains Mastodon's highest-charting album yet — Hinds, bassist Troy Sanders, guitarist Bill Kelliher, and drummer Brann Dailor are getting back to basics.
"Blood Mountain and Crack the Skye — those albums took too long to make," says Hinds. "This only took us a couple weeks to record and there's a totally different feeling to it. It's a jump-on-your-bed, get naked, and go streaking kind of record. I haven't had this feeling about a Mastodon record since [2004's] Leviathan. It's just fucking awesome.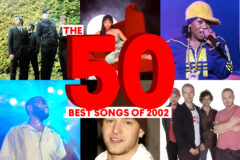 "We've got a song about fighting, there's a song about lifting heavy stuff, there's a song about people on meth creeping around in trees trying to get the best wood grain out of a tree to sell it at Lowe's for [drug] money… The album is kind of silly. We're taking the piss out of things."
Of the final tracks, produced by Mike Elizondo (Fiona Apple, Eminem), Hinds is particularly stoked for "Blasteroids," which he calls "pretty spastic and fun and bouncy," as well as "All the Heavy Lifting," which is a sludgy tribute of sorts to one of the group's favorite metal bands. "It kind of sounds like Neurosis, with that evil, minor, creepy sounding stuff.
Still, the album won't be totally "silly" — it will also include reflections on personal tragedies the band has undergone over the last year. For "The Sparrow," Hinds penned a tribute to his brother, who died unexpectedly last December while hunting. (In fact, Mastodon have two working titles for the album in honor of Brad: The Hunter or Brother.)
"Me and my family are in the phase where we've accepted it and now I'm paying homage to him," says Hinds. As for its sonic vibe, "It sounds like Zeppelin with these smooth buttery vocals and a huge Jimmy Page-style guitar solo. Me and Brann play off each other also in this sort of proggy way. There's a lot of stuff for the listener to tweak their ear to."
Prior to Mastodon's new disc, Hinds will release a double-album set on June 7 featuring his two side-projects Fiend Without a Face (his mid-90s band prior to joining Mastodon) and West End Motel. (Stream music below.) The records, which feature material that he recorded in the mid-'90s, are a welcome departure from Mastodon's thrashy, progged-out fare:Fiend Without a Face finds Hinds digging into his love of old garage rock bands like the Mummies and Mothers of Invention-era Zappa. Highlights include "Tsunami," which tips its hat to Dick Dale's twangy surf guitar, and "Get Straight," which features snatches of Devo's "Whip It." "I love '80s New Wave music and I'm a gigantic Devo fan," Hinds says. "I've got the whole Devo costume and everything."
But Hinds' music with West End Motel is far weirder — and cooler. A collaboration with his best friend (and local Atlanta musician) Tom Cheshire, the group's music sounds like Tom Waits and Tim Burton co-hosting the creepiest vaudeville show ever. Lyrically, the two offer up a deranged snapshot of American culture — many of the tunes were inspired by spontaneous freight-train trips they took years ago.
"It's all about that experience of traveling on trains and along the rails, that nomadic, once-in-a-lifetime, last hurrah kinda thing that you had," says Hinds. "Don't get me wrong. It's not like I was sum bum or anything — I had a construction job — but this is something I see kids doing all the time nowadays, and these songs are all about that experience."
But even though Mastodon are gearing up for a return, Hinds won't abandon his work with his other bands: he's hoping to plot a run of East Coast dates this summer with Fiend Without a Face, and has two more records already in the bag. "I've just been dying to get this stuff out there," he says. "And I think Mastodon fans will like it — they're open minded."
LISTEN: Fiend Without a Face's "Tsunami" and West End Motel's "I Like It a Lot"