10 Best Moments of Rock on the Range
The fifth annual edition of Columbus, Ohio's mayhem-inducing metal festival Rock on the Range has wrapped, and it will surely go down as one of the gnarliest yet. Some 40 bands -- including heavy hitters A Perfect Circle, Korn, Staind, Puddle of Mud, and Danzig -- stopped by to play two days of music on Crew Stadium's three stages.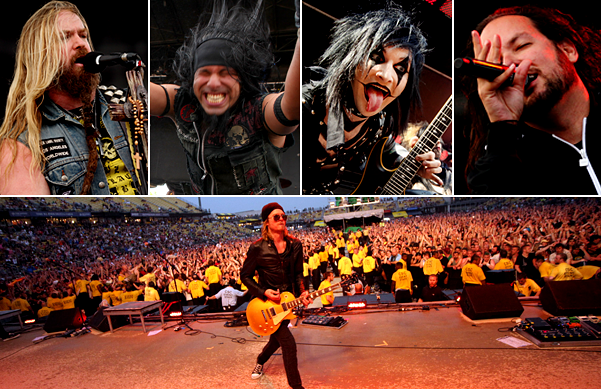 The fifth annual edition of Columbus, Ohio's mayhem-inducing metal festival Rock on the Range has wrapped, and it will surely go down as one of the gnarliest yet. Some 40 bands -- including heavy hitters A Perfect Circle, Korn, Staind, Puddle of Mud, and Danzig -- stopped by to play two days of music on Crew Stadium's three stages.
See our picks for the 10 most memorable moments. -- Reyan Ali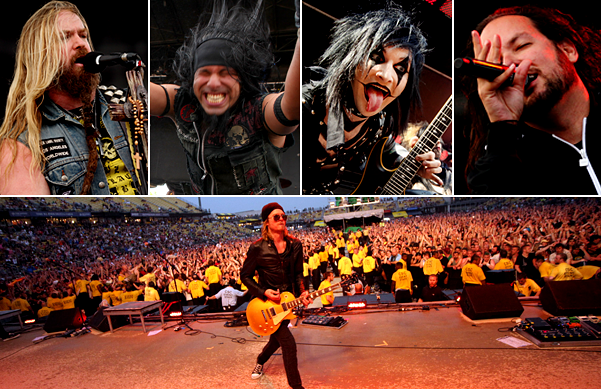 The fifth annual edition of Columbus, Ohio's mayhem-inducing metal festival Rock on the Range has wrapped, and it will surely go down as one of the gnarliest yet. Some 40 bands -- including heavy hitters A Perfect Circle, Korn, Staind, Puddle of Mud, and Danzig -- stopped by to play two days of music on Crew Stadium's three stages.
See our picks for the 10 most memorable moments. -- Reyan Ali
3.BEST DISFIGURED NURSERY RHYMES: KORN
3/12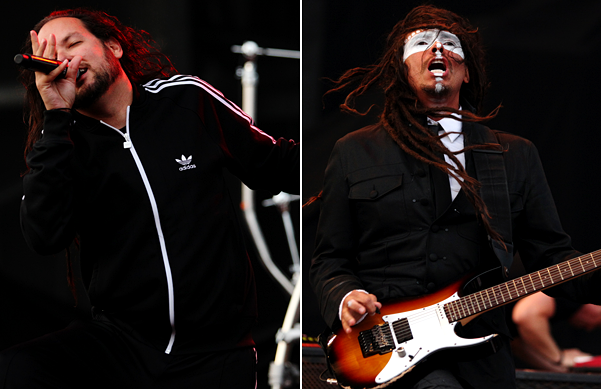 Korn played right before Avenged Sevenfold closed out Saturday's bill at the Monster Stage, but perhaps the two should have swapped -- Korn's set was surprisingly powerful, even with all its warped nursery rhymes. Wearing a tracksuit and backed by blue and gold lighting, singer Jonathan Davis was an explosion of dreadlocks. The Californian act's agitated instrumentation was impressive, too, making good on "Blind," "Freak on a Leash," "Got the Life," "Alone I Break," and "Falling Away from Me." Best of all was when Davis left the stage and returned with bagpipes, eliciting an enormous roar of approval from the crowd. The instrument's drone kicked off "Shoots and Ladders" from 1995's Korn, with Davis mutating verses from schoolyard standards like "Ring Around the Rosie," "This Old Man," and "Mary Had a Little Lamb." The song's premise is still patently ridiculous -- morose nu-metal bands and nursery rhymes are the weirdest of bedfellows -- but the frontman's intense delivery made it as compelling as it is creepy.
4.BEST SELF-EMPOWERING PEP TALK: BLACK VEIL BRIDES
4/12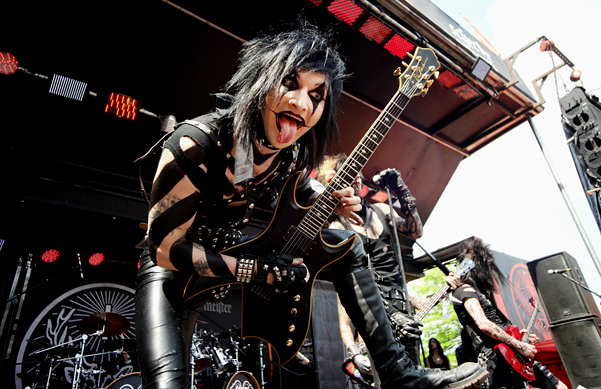 It's almost too easy to bag on Black Veil Brides. The androgynous Cincinnati five-piece slather on goth makeup with blood splatters and death-gray tints, wear corny leathers, and shape their jet-black hair into super-stylized swoops, with the finished product resembling an '80s jock-metal band like Poison turned hardcore zombie punks. But while their uber-dolled-up aesthetic is bound to turn some strangers off, Brides vocalist Andy Biersack doesn't care -- he preaches a message of empowerment and acceptance, packaged in the heavy riffs and shrieking of tracks like "Sweet Blasphemy," "Knives and Pens," and "Fallen Angels," a single from their just-released second album, Set the World on Fire. He reminded the crowd that they didn't need anyone's approval -- "Who cares if people don't like you?" -- to a wave of cheers. "The next time somebody fucks with you," advised Biersack, "I want you to say, 'Fuck you, motherfucker.'" Soon after, he launched another interesting approach to hype his band: "We don't give a shit if you don't like our music, but if you believe in yourself, we want to see your fists in the air."
5.BEST ALTERNATIVE TO THE RAPTURE: DANZIG
5/12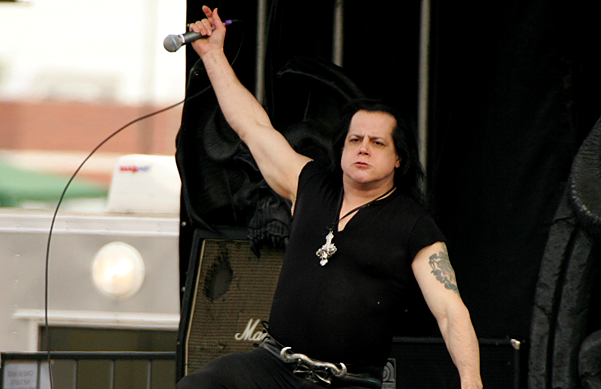 Glenn Danzig is one intense dude. Flanked by his impeccable band, the legend bellowed through numbers like "Skincarver," "Dirty Black Summer," and "Thirteen," whipping his arms as if he was preparing to slay a wildebeest with his bare hands (which he could probably do). While Danzig's voice was too low in the mix, the sets's energy picked up as it went along. The show headed toward its peak as Danzig spewed his disgust for Saturday's Rapture-to-be (which, by their 6:25 P.M. start time, was clearly not in the cards) and Harold Camping, the radio host who popularized the prediction. "Someone should beat the living shit out of that guy," Danzig joked, before adding that if the world was indeed ending, no song would be better to play than the next. The tune, of course, was "Mother." Unsurprisingly, the crowd went bonkers, including one well-tanned brunette who pulled up her tank top no less than three times during the song. Not a bad alternative to burning in hellfire, no?
6.BEST RANDOM DRUNKENNESS: SHIRTLESS BEARDED GUY AT STAIND
6/12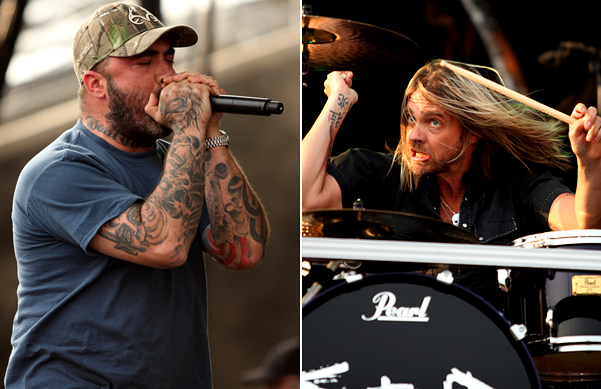 Like Wasted Sandal Guy at Coachella and Wasted Dancing Guy at Sasquatch, every big rock festival has a character who stands apart from the rest of the t-shirt-wearing populace (and is often a flash-in-the-pan celeb thanks to YouTube). Saturday's star was Shirtless Bearded Drunk Guy, who had been stumbling around aimlessly for hours before becoming especially entertaining during Staind's humdrum set on the main Monster Stage. For no apparent reason, Drunk Guy started waving his middle finger in the face of another patron, who looked irritated but didn't retaliate. Soon Drunk Guy stumbled around like a boxer who had taken one too many fists to the temple, then hit the concrete deck. Instead of getting right back up, he took a catnap, leaving him vulnerable to the antics of other drunkards, like a girl who stopped by his comatose body to gyrate over his face. Eventually, cops escorted him out, but reactions to his exit were mixed. One section booed while another cheered, chanting, "One more beer! One more beer!" According to a YouTube user who caught some of SBDG's buffoonery on video, security deposited him on a curb outside the venue, leaving him passed out "half on the sidewalk, half in the driveway." Hopefully, our hammered anti-hero returns in 2012.
7.BEST SYMBOLIC PROTEST: POP EVIL
7/12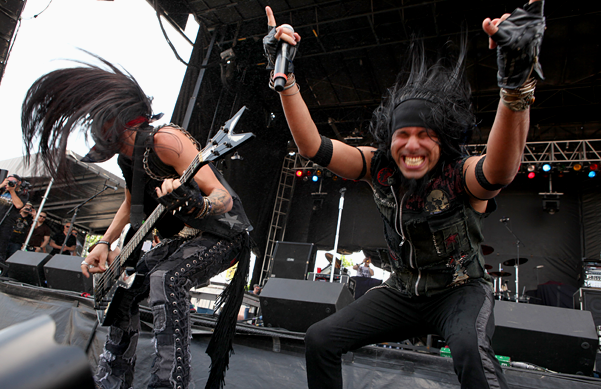 The performances at Rock on the Range were mostly of the impeccably fine-tuned sort. An off note was rare; a frontman going off the rails was even more so. It was a welcomed change of pace, then, when Grand Rapids, Michigan-based five-piece Pop Evil decided to flaunt a copy of their recording contract onstage. Frontman Leigh Kakaty held up the document between songs (presumably, it was one signed with Universal Republic, who released 2008's Lipstick on the Mirror) and announced that it was the reason couldn't release their new record. With a "Fuck that shit," Kakaty then ripped up the contract, tossing the scraps all around. It was a striking little display. And while there's always a chance that they'd just get another copy of that contract to tear it up at another show, the band showed other glimmers of impulsiveness, like when Kakaty dedicated "100 in a 55" to raising kids on rock'n'roll and not that "Justin Bieber bullshit."
8.BEST TRIBUTE TO A FALLEN LOCAL HERO: THE DAMNED THINGS
8/12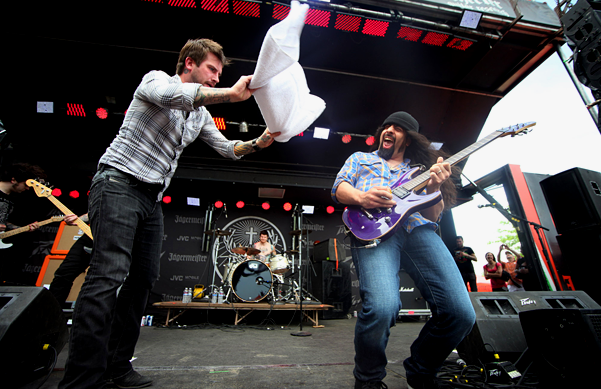 It's rare for a metal frontman to get a little tender-hearted onstage. But Keith Buckley, singer for this supergroup (which includes members of Anthrax, Fall Out Boy, and Every Time I Die), opened up between blasts of '80s-leaning heavy metal at the Jägermeister Stage. The reason for his genuine outpour? The passing of Columbus-born wrestler "Macho Man" Randy Savage, who died on May 20 in a Florida car crash at 58. He dedicated their song "The Great Reckoning" to the late wrestler and even noted that Macho was a crucial influence on his life. "Snap into this, motherfucker," he added, before starting the song. All the tribute was missing was a snippet of "Pomp and Circumstance Marches," Savage's notorious entrance song.
9.BEST ENTRANCE GEAR: BLACK LABEL SOCIETY
9/12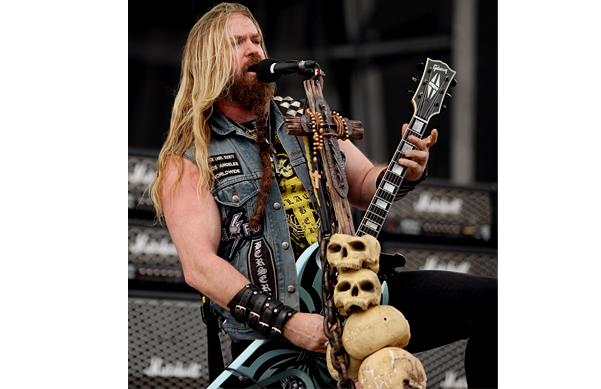 In the music world, Zakk Wylde is an unmistakable character -- a burly, long-haired, occasionally serious, sometimes affable metalhead. But when he led Black Label Society onstage wearing a Native American headdress, the touch added even more personality. The headwear was brown, white, and black, with what looked to be a fox pelt covering Wylde's ears. Sadly, the garb's appearance was short-lived, as it was off by the time BLS started rampaging through their thunderous heavy metal. As competent and imposing as their sound is, their Sunday set suffered from an excess of solos. At one point, the rest of the L.A. band left Wylde by his lonesome, and the man ripped a solo that went on for two eternities too long. The guy's fantastic at his instrument -- there's no arguing with that -- but the guitar worship became grating fast. On the upside, Black Label's set was light on the same ol' "Are you motherfuckers with me?!?!"-esque clichés that were employed ad nauseam by other bands over the weekend.
10.BEST SURPRISE: PUDDLE OF MUDD
10/12
When we last checked in with Puddle of Mudd at Rock on the Range in 2010, guitarist-vocalist Wes Scantlin was an energetic, foul-mouthed presence, liberally detonating f-bomb after f-bomb onstage. This year, as the ROTR veterans served as a last-minute replacement for Stone Sour (who dropped out after a bandmember suffered a minor stroke), Scantlin was not nearly as amped-up or ready to curse. In fact, he let the whole Sunday evening set (which featured "Cloud Nine," "Drift and Die," and "Blurry") pass by with nary a string of expletives until they did "She Hates Me." Also of note were their excellent covers: the opening of Black Sabbath's "War Pigs," which segued into "Control," and AC/DC's "TNT" (which they did last year, too). In its own peculiar way, the restrained performance was rather charming, even as the group was competing with patrons heading indoors to get away from the rain.
11.BEST EXHIBITION OF MASS HUMANITY: DISTURBED
11/12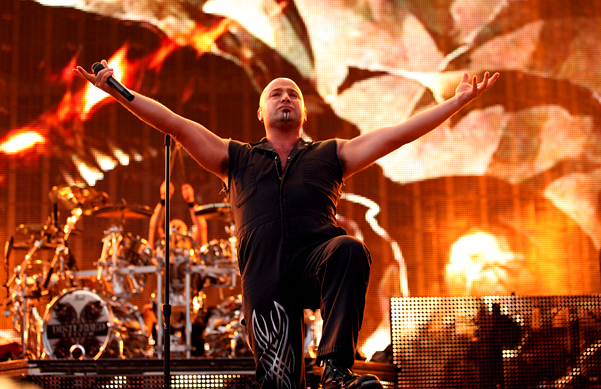 According to officials, the total attendance for Rock on the Range 2011 was around 70,000. It's difficult to visualize all those people packed into the same space, but Disturbed's penultimate set on Sunday night certainly helped with that. With the rain subsiding and no other bands playing the same slot, the Chicago head bangers had a giant crowd filling up the expanse in front of the main stage. When singer David Draiman, who looks like a better-built, fashion-loving version of Howie Mandel, asked the crowd to show him their devil horns at the outset of "Prayer," the trite maneuver gained new life in the massive crowd. Witnessing an unending stretch of hands moving in unison was pure spectacle. Two-dozen crowd surfers were sailing along at once, too. There were other elements of theatricality to Disturbed's show, too: LED screens showed a creepy narrative involving a murderous doctor, and then, during "Inside the Fire," plumes of real flames rose from the stage and the screens soon mimicked with glowing-red flames of their own, too.
12.BEST EXAMPLE OF LIVING UP TO THE HYPE: A PERFECT CIRCLE
12/12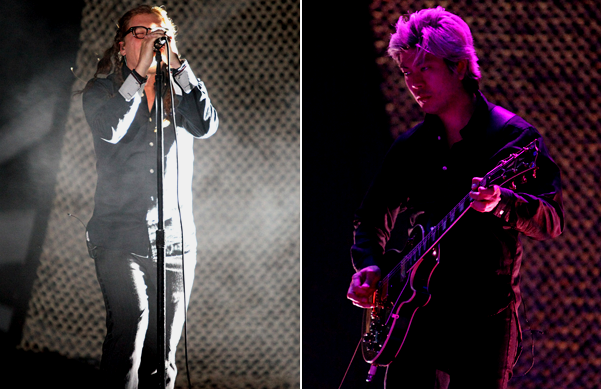 Over the years, musician-winemaker Maynard James Keenan has gained a reputation as an elusive presence, mythologizing his persona (unintentionally or otherwise) by retreating to his Arizona vineyard for long stretches. A Perfect Circle's headlining performance on Sunday night -- the last set of ROTR 2011 -- only bolstered this concept. His only form of greeting was "Ohio," and he appeared only as a silhouette standing at the back of the stage as smoke billowed. When the rest of APC appeared, the instrumentalists took the spotlight instead. The giant monitors that relayed a video stream of the band playing were even turned off -- a rarity. APC's set, which included "People are People," "Judith," and "Pet" (the last of which grew into an earth-moving force), was in total contrast to Disturbed's show. The crowd was comparatively thinner and motionless, but A Perfect Circle were fantastic, building startling atmosphere out of blurry guitars. It was unlike anything else on tap this weekend.