All Tomorrow's Parties, a three-day festival held this weekend at the family-oriented Butlins Resort near Minehead on the west coast of England, couldn't have been better summarized by iconoclast noise-makers Animal Collective's curation of the lineup.
The Maryland-bred experimental band — who nabbed SPIN's 2009 album of the year with their eighth studio release Merriweather Post Pavilion — did not disappoint. The quartet — Avey Tare, Panda Bear, Deakin, and Geologist — flaunted their broad listening habits and deep sense of musical history in their lineup selections. They paid their respects to '60s composers like Terry Riley and Tony Conrad, as well as '80s underground act like the Meat Puppets and Thinking Fellers Union Local 282. They drew on everything from Brooklyn noise to Malian blues, with dashes of Finnish abstract electronics (from Vladislav Delay) and Detroit techno (from DJ Omar S.) thrown in.
Here, SPIN lists the best of the fest:
BEST BAND REINVENTION: ANIMAL COLLECTIVE
In addition to curating three days of music and film, and even programming two on-site television stations (not to mention a book club), Animal Collective headlined two of the three nights. And when they took the stage on Saturday, the band looked different from their last appearances. In fact, they looked like a normal band. Rather than the Kraftwerkian workstations from their Merriweather tour, AnCo has Deakin back in the fold, playing guitar and singing, and Panda Bear back behind a full drum kit (instead of manning a drum machine), something fans haven't seen since the Here Comes the Indian era. The new material — no less than 10 fresh tracks — flashed polyrhythmic foundations and traces of dubstep, tropical rhythms, and even salsa flavors, which propelled songs that grew more melodically and lyrically dense. While the band also worked in the ecstatic blasts of "Brother Sport" and "Summertime Clothes," as well as Feels standout "Did You See the Words," they defied crowd expectations throughout the night.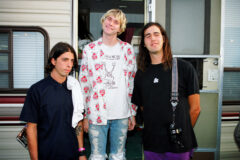 CUTEST DEDICATON: BEACH HOUSE
Midway through the Baltimore duo's slow-cresting set on Saturday, singer Victoria Legrand dedicated a song to the gosling nesting between the two main music venues at ATP. The downy baby was guarded by its two Canadian geese parents and a French barricade, giving the feel of a petting zoo between the two stages. Legrand summarized that it was "the cutest duckling in a gated community" before the group exploded into a sumptuous take of "Zebra," off of their excellent 2010 albumTeen Dream.
BEST UNCONFIRMED CELEBRITY SIGHTING: BILL MURRAY
Twitter feeds swore that comedian-actor Bill Murray was seen catching the furious solo guitar set from Krallice and Orthrelm member Mick Barr from the front row on Saturday. Who knew the man appreciated such an abstract yet epic shredding onslaught?
BEST SUPERGROUP: SOLDIERS OF FOURTUNE
Comprised of members from Oneida (Kid Millions and studio engineer Barry London), Oakley Hall (Papa Crazee), Chavez and Bonnie "Prince" Billy (guitarist Matt Sweeney), and Interpol (touring bassist Brad Truax), Soldiers of Fortune's Friday set brought plenty of New York noise. With a three-guitar attack that was equal parts Sonic Youth and '70s/'80s Southern rockers Molly Hatchet, the Soldiers tethered it to the tireless drumming of Kid Millions, crafting a hurricane of sound that never abated.
SCARIEST CLOWN VIDEO: BLACK DICE
With headswimming visuals courtesy of Brooklyn's Secret Project Robot folks, experimental electro trio Black Dice's blistering evening set on Friday raised the bar for the festival, even as they permanently damaged eardrums. Reminiscent of a rave, the scene was a compressed day-glo mass of squiggles and distortion. So when their abstract visuals coalesced into a montage of huge clown faces, the audience shuddered in fear, making Dice's sputtering ear-split beats feel even more traumatic.
WILDEST ARTISTIC JUXTAPOSITION: BIG BOI TO TERRY RILEY
Outkast's Big Boi (aka "Sir Luscious Left Foot") followed an easy-going reggae set from dub godfather Lee "Scratch" Perry with a thorax-rattling set of platinum hip-hop hits. The room stomped to "Rosa Parks" and "So Fresh and So Clean," and Big Boi effortlessly veered from present ("Shutterbugg") to past ("Player's Ball"), making the entire night a "knee's up" affair. He even dipped into bits of 2 Live Crew and Queen's "We Will Rock You," and then hauled dozens of British birds up onstage to cap his triumphant ATP performance.
All of which led to… the hushed, melodic and contemplative set by revered American composer Terry Riley. Responsible for the famed minimal piece, In C, Riley emphasized the lyrical quality of his later work (often in collaboration with the Kronos Quartet). Alternating between grand piano and keyboard, the 75-year-old engaged in duets with his son Gyan accompanying him on guitar, his flamenco-flavored leads harmonizing with his father's subtly evolving piano lines, giving an air of spiritual serenity in a room full of booze-filled concertgoers. Disparate as the two acts may seem, they were spotted later that night chilling outside of the onsite Burger King.
BEST '80S FLASHBACK: TIE BETWEEN MEAT PUPPETS AND SPECTRUM
Countless acts now use the Reagan decade as a musical touchstone. From the woozy Joe Jackson moves of Ariel Pink to the nostalgic dance-pop of Teengirl Fantasy, the decade was best represented by acts that actually lived through it, even if they don't recall it. The Meat Puppets even admitted that they didn't remember 1985, but they did recreate the mindstate of their sand-baked classic Up on the Sun. With the sprightly bass of Cris Kirkwood and the cascading guitar lead of his brother Curt Kirkwood entwined on the title track, the band tackled the two-decade old material with joie de vivre, sending the crowd into a bit of jammy dancing.
More buttoned-down but no less transcendent, Pete Kember and his Spectrum bandmates were at their morphine-drip paced best, drawing on Sonic Boom's deep Spaceman 3 roots for ethereal epics like "When Tomorrow Hits." Another blissed out number was dedicated to the memory Trish Keenan, lead singer of the English group Broadcast, who passed away earlier this year and remained a spiritual presence at the festival. But Spectrum's greatest moment in one of the festival's finest sets was a furious take on Spaceman's epochal single "Revolution." Judging by the crowd's fervor at the white noise climax, it seemed like such revolution might come in "fiiiiiive seconds."
"IT'S A FAMILY AFFAIR" AWARD: GROUP DOUEH
To say that this year's ATP was a family affair is putting it mildly. There was even a child's onesie that read: "ATP Presented by Mum and Dad." At the top of the bill was Animal Collective's Avey Tare as well as his sister's solo project, Drawlings. Friday night headliner, Terry Riley, performed in duet with his son, Gyan. Sibling acts ranged from Black Dice's Copeland brothers to the Larson sisters of Prince Rama. The Brothers Unconnected, comprised of siblings Rick and Alan Bishop, appeared onstage Saturday afternoon in shades and cackled out manic acoustic numbers like the Thai version of the Smothers Brothers. And there were the Kirkwood brothers of Meat Puppets, too. But the family sentiment centered around the Western Sahara sound of Group Doueh, which provided one the festival's finest feelgood moments. Featuring three back-up singers/dancers, Group Doueh contains wife Halima and her soaring vocals, husband Doeuh, and their teenage son on keyboards (who looked as disinterested as any teenager in a family band would be the world over). Propelled via beats crafted by Yamaha keyboard, hand drum, even percussive tea glasses, their set emphasized Halima's powerful shouts early in the set, then ceded the spotlight to Doueh and his snaking, mesmeric guitar playing. As members of Gang Gang Dance and Animal Collective danced in reverie at the front of the stage, Doueh and family made the entire room glow with folk chants and electrified stomps. To top it off, Doueh whipped his guitar behind his back for some shredding at set's end.
LAMEST NO SHOW: ZOMBY
Not all of AnCo's musical genre bases were covered, as reclusive dubstep producer Zomby was a no show for his Sunday night set on the main stage. Considering that Sunday's standout Khaira Arby and her band flew from Mali to perform, surely the man could've caught a train from London. But alas. Seeing as how he also flaked out when slated to open for the Animal Collective two years ago in Brooklyn, one would think they'd book a more reliable act the next go-round, like a Detroit techno godhead along the lines of Saturday night's party blaster, Omar S. Omar, whose relentless set of cutting-edge tracks boomed way past closing time. Even with the house lights up and tech guys grumbling, Omar — flashing a sly grin — kept the crowd with hands up until the wee hours of the morning.
TOUGHEST ACT TO FOLLOW: GANG GANG DANCE
The closest sonic neighbors to Animal Collective, New York's Gang Gang Dance also epitomized the festival's musical and aesthetic qualities. The trend of singular female singers from the festival's third day, which ranged from Micachu and the Shapes to Tickley Feather to Malian grand dame Khaira Arby, were wholly embodied in the throat of frontwoman Lizzi Bogatsos for the festival's penultimate set. GGD too touched on the cringeworthy offal of '80s music like Ariel Pink and Oneohtrix Point Never do, but under the brilliant direction of sound alchemist Brian DeGraw and guitarist Josh Diamond, they were transubstantiated into something transcendent. Their set drew heavily from their majestic new album Eye Contact, which found the band dropping their no-wave sound for something silky, billowing and bright. GGD soared from Kate Bush-worthy vocals to fierce drum-circle middle sections to passages as blissed-out as any New Age act. Throughout the night, the band's slogan "Positive Energy" was projected behind them, and after three marathon days of music, all the exhausted concertgoers were still filled with just that.