Green Day's Broadway version of American Idiot, which closes this week, has pleased audiences and grossed more than $38 million, so it's no wonder that artists like the Flaming Lips, the Decemberists, Regina Spektor, and Tom Waits are developing their own musical theatre projects to reach their fans. Of course, for every American Idiot there are fiascos like U2's Spider-Man or Bob Dylan's… thing. Still, we have high hopes for these 10 projects:
THE FLAMING LIPS
The Gist: Wayne Coyne is rock's king of the wild idea – the Lips just released new music via gummy skull – and what's more outlandish than taking a show based on their 2002 classic Yoshimi Battles the Pink Robots to the matinee crowd on Broadway? The band has tapped director Des McAnuff, co-creator of the stage version of The Who's Tommy. "It's hokey and wonderful and poignant and powerful," Coyne recently told Billboard. "It's really become a perfect combination of my fantastical robot-world vision and [McAnuff's] little, internal, humanistic version of what that music is. I really believe it could work – and luckily I don't have to do much!"
When Will We See It?:The Lips often let projects like this germinate – it took them seven years to bring Christmas On Mars to the big screen – but Coyne expects the production to begin workshopping soon.
TOM WAITS
The Gist: You won't find him on Broadway, but Waits has dabbled in musical theatre before – the shows Frank's Wild Years, The Black Rider, Woyzeck, and Alice all featured his songs. Now he's developing a musical with Irish playwright Martin Martin McDonagh, the writer of brutal, bloody plays like The Pillowman and A Behanding in Spokane and the cult gangster film In Bruges. Little is known, but with minds like Waits and McDonagh on board, expect it to be one of the darkest musicals to hit in years.
When Will We See It?: It's slated to premiere in Paris later this year.
JEFF BUCKLEY
The Gist: Though singer Jeff Buckley died tragically in 1997 at the age of 30, his legacy lives on. In addition to a biopic in development, Buckley's music will be used in The Last Goodbye, a rock musical that fuses the text of Shakespeare's Romeo & Juliet with classic Buckley cuts like "Lover, You Should've Come Over," "Grace," and his cover of Leonard Cohen's "Hallelujah." "The characters in Romeo & Juliet are going to extreme places emotionally, and the rawness of Jeff's songs makes that even more intense," says the show's writer-director Michael Kimmel.
When Will We See It?: The production premiered at the Williamstown Theatre Festival in Williamstown, MA, last year; there are no Broadway plans yet.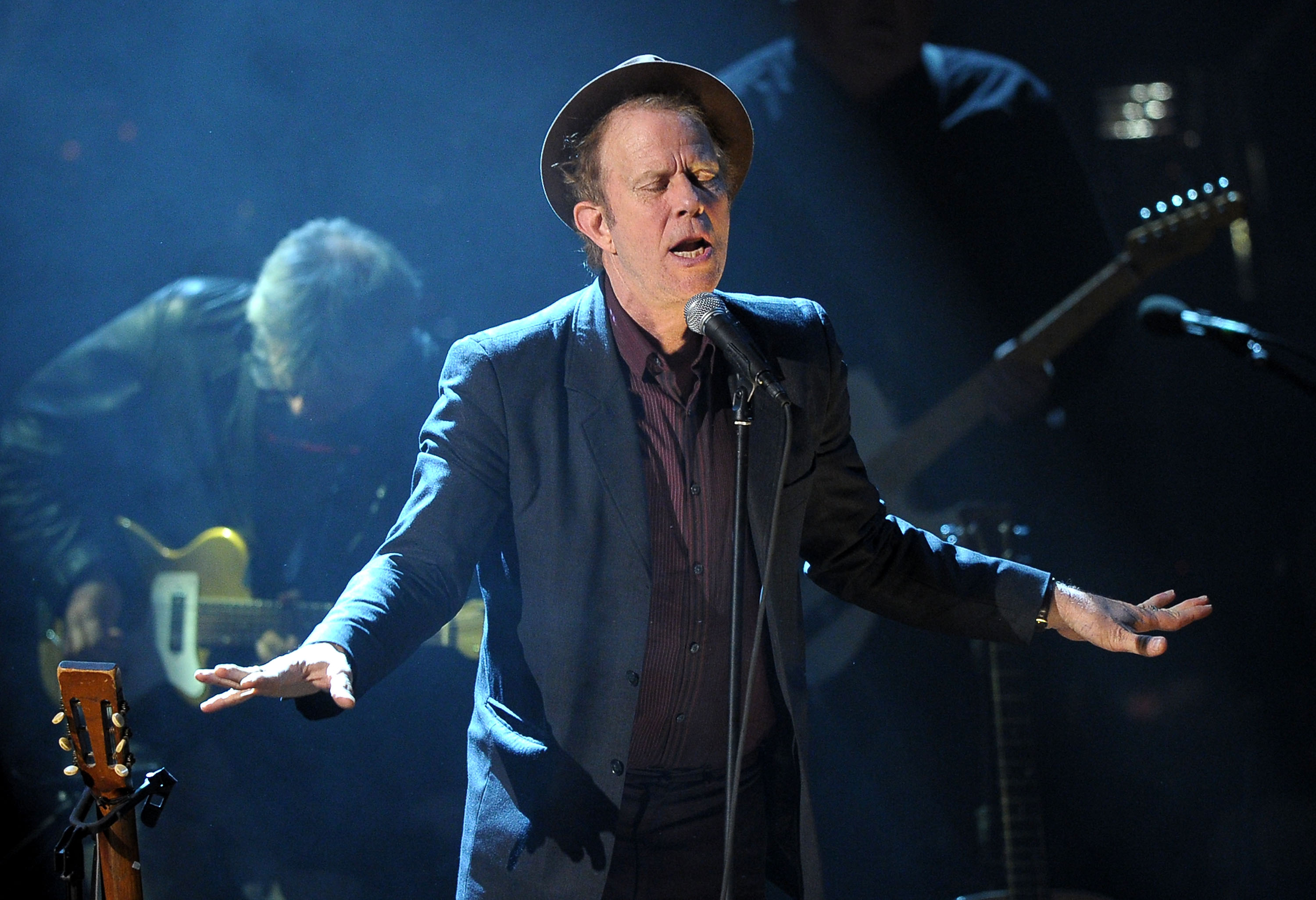 AIMEE MANN
The Gist: Mann writes subtle, bone-chilling ballads that are more suited for the intimacy of a bedroom than the glitzy lights of a theatre, but that hasn't stopped her from penning a musical based on her 2005 concept record The Forgotten Arm. The album is part boxing drama, part domestic narrative, with a disintegrating couple at its center – think Raging Bull meets Blue Valentine. Despite the tearjerking potential, Mann is having a blast working on it. "Writing songs for a musical is so hilariously fun," she said, "because you don't have to worry about being cool."
When Will We See It?: Mann is deep in the writing process, but she has debuted songs from the musical at recent live shows, including the gorgeous "Easy To Die".
DUNCAN SHEIK
The Gist: He may be responsible for treacly hits like "Barely Breathing," but the dude knows how to write an ace musical like Spring Awakening. And his next project promises to explore darker territory: a musical adaptation of Bret Easton Ellis' American Psycho. Not rock'n'roll enough for you? "I'm hoping this piece can make Spring Awakening look like The Wedding Singer," Sheik said.
When Will We See It?: Sheik and playwright Roberto Aguirre-Sacasa are currently hacking away at the script.
PANIC! AT THE DISCO
The Gist: They're not afraid of the theatrical – guy-liner! insanely long song titles! grammar-defying punctuation! – but they've only recently started talking about bringing their glossy, glam-rock inspired show to the stage. "To put together a show that was a mix of our music as well as maybe tell a story… that would be like a dream," drummer Spencer Smith recently said. "It would be in, like, New Jersey. Like off-Broadway. Really far."
When Will We See It?: With these twentysomething kids? Probably never. But, hey, Rogers and Hammerstein didn't write Oklahoma! until they were 40.
THE DECEMBERISTS
The Gist: Colin Meloy once wrote a song titled "I Was Meant For The Stage," so Broadway is sort of his destiny. "People are constantly asking me to write musicals – it's the cross that I bear," Meloy jokingly told Billboard. "I grew up doing theater, so in theory, I would love to write a musical. I don't know if I have the stuff – I always end up just writing little pop songs that stand a better chance on a record than on stage."
When Will We See It?: Despite Meloy's self-doubt, he has met with American Idiot director Michael Mayer. "We're still talking," says Meloy."There's potential for a musical down the line, for sure."
REGINA SPEKTOR
The Gist: The Russian-born New Yorker will add her whimsical sensibilities to an adaptation of Sleeping Beauty, which she's working on with lyricist Michael Korie (Broadway's Grey Gardens) and director Tina Landau (Superior Donuts). "It's a lot of work," Spektor told the AP. "I have a lot to write. Who knew that writing musicals is not that easy?"
When Will We See It?: The project is planned for the 2011-2012 Broadway season.
RUN-DMC
The Gist: Joseph "Rev Run" Simmons and Darryl "DMC" McDaniels have been in talks with Hollywood producer Paula Wagner to bring their inspirational story and classic hip-hop songs to the stage. "[Run-DMC's] lyrics and their music is infectious," Wagner said back in 2009. "It's vibrant, it's alive. Who they are and what they did was a culturally defining moment. It embraced everybody."
When Will We See It?: No timetable has been set on the production.
JOHN MELLENCAMP
The Gist: A collaboration with horror maestro Stephen King, the Southern gothic musical Ghost Brothers of Darkland County has been in the planning stage for more than 10 years. But the long-gestating project has shown signs of life lately. Centering around the 1957 death of two brothers and a young girl, the musical will feature bluesy, Americana-steeped tunes from Mellencamp. "We had Kris Kristofferson, Neko Case, Elvis Costello, Taj Mahal, all singing different characters' roles," Mellencamp told The Chicago Tribune last year. "I wrote all the songs, 17 songs. [T Bone Burnett] produced. It sounds like the Sgt. Pepper's of Americana to me."
When Will We See It?: The production will premiere on April 4, 2012, at the Alliance Theatre in Atlanta.