For their new album Nine Types of Light (out today), TV on the Radio hatched an ambitious plan to film one music video for each track on the album. The full movie has premiered today on YouTube, and you can watch it here.
For this project, singer Tunde Adebimpe tapped his favorite up-and-coming directors to helm each clip, and the result is a visually arresting opus that dips into everything from animation ("Second Song") to awesomely lo-fi videos that look ready for public access TV ("Caffeinated Consciousness").
But best video honors go to Barney Clay's take on "YOU," which features Adebimpe playing a Prince impersonator who's down on his luck and living on the streets. It's both hilarious and emotionally wrenching – particularly when Adebimpe's character starts to weep. Other highlights include the Adebimpe-directed "Forgotten," a dark satire of the Hollywood movie industry and paparazzi culture.
While the project is definitely ambitious, TVOTR produced the Nine Types of Light movie with modest financial funding. At the premiere screening in New York Monday night, a project manager revealed that each clip was made with a "four-digit budget."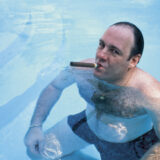 WATCH: TV on the Radio's Nine Types of Light
https://www.youtube.com/embed/8B5GP0AiQMc