On the new EP thecontrollersphere, out April 26, Of Montreal are offering five tracks recorded during the sessions for their last album False Priest. The Athens, GA, crew previously debuted the towering noise-rocker "Black Lion Massacre" and the strummy "Flunkt Sass Vs the Root Plume," and now SPIN has a premiere of a third track, "Slave Translator," which you can stream below.
On this standout, Of Montreal deliver a four-minute odyssey that veers from sped-up funk to slo-mo drone and back again. True to form, frontman Kevin Barnes lyrics reveal another wild explosion of uncontrolled id, with a hilarious X-rated examination of sex and domination. "All the nimble boys are girls for boys with no girls to cum into," he sings in his shrieky falsetto. OK!
Of Montreal have a string of Spring dates lined up, featuring openers Hunx and his Punx, Braids, Nite Jewel, and others. Dates below.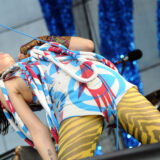 Of Montreal Tour Dates
4/15, Madison, WI (Varsity Hall – Union South)
4/22, Richmond, VA (The National)
4/23, Poughkeepsie, NY (Walker Fieldhouse at Vassar College)
4/24, Buffalo, NY (Town Ballroom)
4/25 , Rochester, NY (Harro East Ballroom)
4/26, Providence, RI (Lupo's Heartbreak Hotel)
4/27, New Haven, CT (Toad's Place)
4/28, Washington, DC (9:30 Club)
4/29, Philadelphia, PA (Theatre of Living Arts)
4/30, New York, NY (Webster Hall)
5/01, Boston, MA (Paradise)
5/02, Montreal, QE (Le National)
5/03, Toronto, ON (The Phoenix)
5/04, Cleveland, OH (House of Blues)
5/05, Chicago, IL (The Vic)
5/06, Omaha, NE (The Slowdow)
5/07, Lawrence, KS (Liberty Hall)
5/08- Denver, CO (The Ogden Theatre)
5/09, Salt Lake City, UT (In The Venue)
5/11, Seattle, WA (Showbox Market)
5/12, Portland, OR (Roseland)
5/13, San Francisco, CA (The Fillmore)
5/14, Los Angeles, CA (Avalon)
5/15, Tempe, AZ (Marquee Theatre)
5/17, Austin, TX (Mohawk)
5/18, Dallas, TX (South Side Music Hall)
5/19, Memphis, TN (Minglewood Hall)
5/20, Atlanta, GA (The Buckhead Theatre)