Huntsville, Alabama, hip-hop duo G-Side, aka rappers Yung Clova and ST 2 Lettaz, are on the rise. They were named one of SPIN's Best New Artists in February, and landed in the pages of our May issue as a Breaking Out. Now we're premiering the video for "Came Up," off their new album The ONE… COHESIVE.
"We went back to the block," ST tells SPIN of the clip, filmed in their Huntsville 'hood. "We back to where we came from — back to the basics to show where we came up from." Adds Clova, "We wanted to show people our hometown."
Over keyboards, a grooving beat, and atmospheric effects, the duo spit about their rags to riches career as they coast through town in car, and hang out in dilapidated housing projects, while two ladies add melancholy melodies on the violin. Think HBO's The Wire meets the Dirty South.
WATCH: G-Side, "Came Up"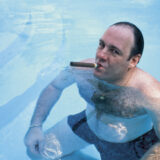 https://www.youtube.com/embed/_a84r6be3p0