The annual Bamboozle festival happens at New Meadowlands Stadium in New Jersey, April 29-May 1, but even if you're not attending you can discover the festival's 10 Must-Hear Breakout Acts — click here to check it out!
Better yet, we're offering a bonus gift: a free download album of songs by eight of those can't-miss bands, plus three additional SPIN faves: SXSW breakout stars Sleeper Agent, culture-bending rap trio Das Racist, and Texas indie popsters Eisley. Our 2011 edition of SPIN Presents: Punk Rock Parking Lot also features tracks from Pete Wentz's Black Cards, Aussie duo An Horse, on-the-rise MC Machine Gun Kelly, and more!
Download your free copy via the widget below! A valid email address is required to receive your download link. (NOTE: The widget is Flash, and won't work on mobile devices that are not Flash-compatible.)
Sorry, this album is no longer available for download.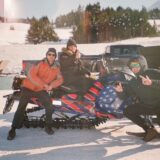 To stay on top of everything Bamboozle-related, and for festivals throughout the year, be sure to follow @SPINfestivals on Twitter, as well as our mothership Twitter, @SPINmagazine.
SPIN Presents Punk Rock Parking Lot Tracklisting
1. Sleeper Agent, "Get It Daddy"
2. Tigers Jaw, "Windmills"
3. An Horse, "Dressed Sharply"
4. Frank Turner, "I Am Disappeared"
5. River City Extension, "Something Salty, Something Sweet"
6. Eisley, "Smarter"
7. Animals as Leaders, "CAFO"
8. Black Cards, "Club Called Heaven"
9. Machine Gun Kelly, "Chip Off the Block"
10. Das Racist, "Amazing (feat. Lakutis)"
11. Neon Hitch, "Am I Dreaming (Easy Does It Remix feat. Liam Horne)"