After months of teases and trailers, the Beastie Boys finally premiered their star-studded 30-minute short movie Fight for Your Right Revisited, along with a truncated version set to the music of their new single "Make Some Noise," from their May album Hot Sauce Committee Part Two. Watch that video here, and head over to Some Kind of Awesome to catch rips of the full movie.
Turns out the hype for the movie was worth it: Even the shortened version is one of the funniest music videos you'll see all year. The clip stars Elijah Wood, Seth Rogen, and Danny McBride as the Beasties circa Ill Communication and picks up where the video for 1987's "(You Gotta) Fight for Your Right (To Party!)" left off.
The trio go on a terror spree through the streets of New York, crashing into a bodega, dousing a stodgy-looking businessman (played by Will Arnett) with a 40, and riding around in a limo with a trio of punk groupies (played by Chloe Sevigny, Kirsten Dunst, and Maya Rudolph). Will Ferrell delivers some mean cowbell action; David Cross assumes Adam Yauch's alter ego Nathanial Hörnblowé; and of course there's a vintage DeLorean.
The clip only gets more meta towards the end, when the bizarro Beasties have a show down with, uh, another bizarro Beasties (played by Jack Black, John C. Reilly, and Will Ferrell). Got that?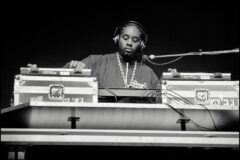 WATCH: Beastie Boys, "Make Some Noise"