40 Best Coachella Fan Moments
1.BEHIND THE SCENES IN THE CALI DESERT!
1/41
At Coachella 2011, April 15-17 in Indio, California, over 120 bands will take play over three days and five stages -- it's one of America's biggest festivals, and SPIN has you covered, with loads of show reviews and live photography.
But this year, as part of a partnership with Hyundai, we'll be showing off another side of the Coachella experience, as seen from the crowd, in the VIP section, and around the festival grounds. It's the fan perspective, and we've got four amazing young creators set to document it all.
2.BEHIND THE SCENES IN THE CALI DESERT!
2/41
At Coachella 2011, April 15-17 in Indio, California, over 120 bands will take play over three days and five stages -- it's one of America's biggest festivals, and SPIN has you covered, with loads of show reviews and live photography.
But this year, as part of a partnership with Hyundai, we'll be showing off another side of the Coachella experience, as seen from the crowd, in the VIP section, and around the festival grounds. It's the fan perspective, and we've got four amazing young creators set to document it all.
3.LOVE ADVICE FROM A-TRAK
3/41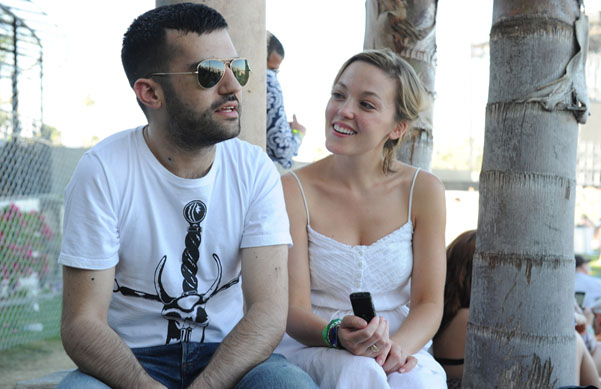 SUNDAY: When I realized superstar DJ/producer A-Trak was sitting next to me in the VIP I decided I should talk to him but had no idea what to say. At first he was taken off-guard when I asked him this thoughts on finding love at Coachella, but eventually doled out some valuable advice. (I blame the free spirit of the festival for allowing me to ask such a bold question.)
After a moment's pause, the artist, real name Alain Macklovitch (whose brother Dave is half of Chromeo), said, "I think there's something very romantic about finding love through good music." Looking around, he added, "Here, everybody's got this sort of dry sweat on their skin. The icky layer. It's a very primal instinct I think. In order to love someone you gotta be OK with the odor of their sweat. It's better to get that outta the way."
His most valuable piece of advice? "Don't look for love in the VIP." --TENIEL HUMESTON
4.GOOD OLD WAR VS. FOOD
4/41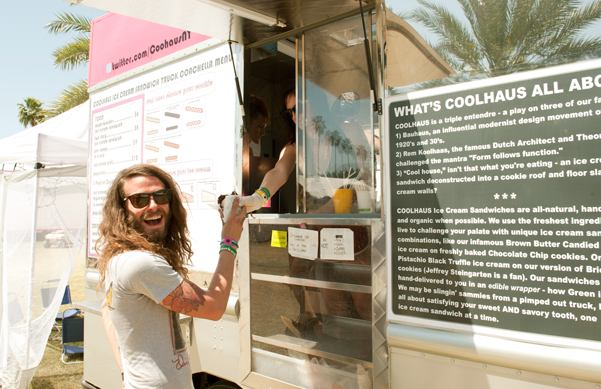 SUNDAY:When asked where I wanted to conduct an interview with Philadelphia rockers Good Old War I quickly decided the Cool Haus ice cream sandwich truck would be a unique venue. I met the band in the truck's shadow and we talked while snacking on exotic ice cream sandwiches and coconut water.
Unsurprisingly, the conversation was heavily focused on food. When discussing my ice cream's unusual bacon flavor, singer Keith Goodwin informed me that his cousins are food scientists who make similarly incredible tastes. "They made this popcorn ice cream with liquid nitrogen that tastes like popcorn, and you crack it and eat it like popcorn," said Goodwin. -- JORGE DEL PINAL
5.MEETING JIMMY EAT WORLD
5/41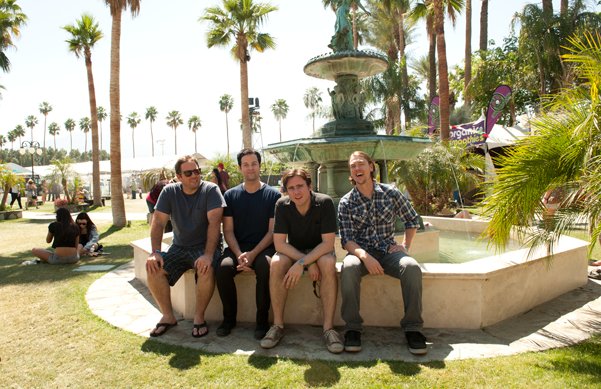 SUNDAY: As a huge Jimmy Eat World fan, I was thrilled to interview the band about their festival exclusive 10th anniversary re-issue of Bleed American for Record Store Day. The band spoke about the personal significance of Bleed American as it represented their mainstream break through.
Although the band has never played the Coachella until now, singer Jim Adkins came to the festival as a fan years ago. He told me, "I came here back when it was a one day thing and it was Jane's Addiction getting back together for the first time." -- JORGE DEL PINAL
6.fun. ON THE FERRIS WHEEL
6/41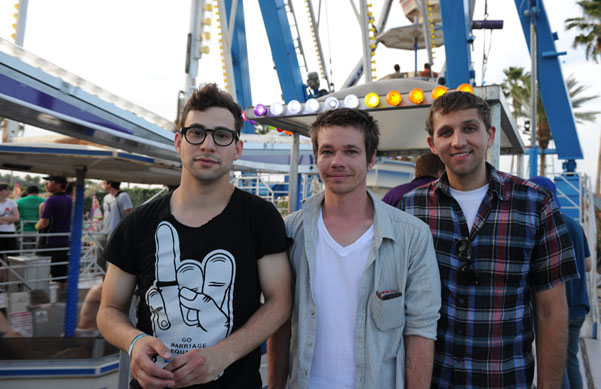 SUNDAY: On the last day of the festival, the guys from fun. and I had one Coachella experience left to conquer: the Ferris Wheel. It was that magic hour where the sun begins to fade and the cooler breeze brings everyone new energy."I think heat stroke is just passing us by right now," guitarist Jack Antonoff mused.
The guys had played earlier in the day under the intense afternoon sun. "This is awesome," keyboardist Andrew Dost said as we climbed high above the crowds. "Really cool," agreed singer Nate Ruess. Then we all took a moment to relax and take in the view of the sprawling mountains and the sky turning pink. --TENIEL HUMESTON
7.KANYE WEST CLOSES THE SHOW
7/41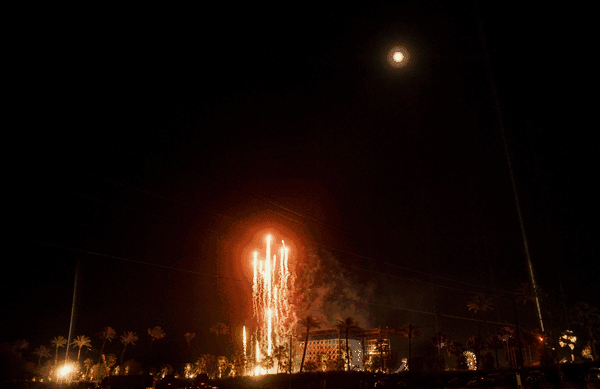 SUNDAY: Out of Coachella's incredible line up, I was by far most excited to see Kanye West perform. We encountered a lot of kings throughout the festival, but Kanye claimed the throne, beginning his set by unexpectedly rising from the middle of the crowd on a lit-up crane that rotated him around 360 degrees.
Guest spots from Bon Iver and Pusha T of Clipse contributed to the excellence of the set. My favorite song of the night was surely "Lost in the World" which featured Kanye surrounded by dancers while Bon Iver's Justin Vernon sang from atop a large white pillar in the middle of the stage. -- JORGE DEL PINAL
8.CATCHING BEST COAST WITH JACK'S MANNEQUIN
8/41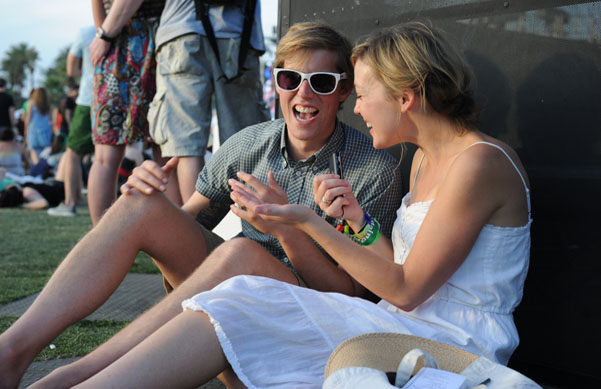 SUNDAY: Jack's Mannequin frontman Andrew McMahon is one of those guys who's so full of life you can't help but enjoy whatever you're doing when he's around. I was lucky enough to have him sitting next to me at the Best Coast set.
He said he was excited to see Foster the People next."One of my friends sent me the record," Andrew said. "As a person who writes songs for a living it's really special when you hear something that's just so effortless." He added, "When I heard the song 'Pumped Up Kicks' I was just like, 'Wow, F-you guys for writing a song that good!'" --TENIEL HUMESTON
9.PLAYING UNO WITH DELTA SPIRIT
9/41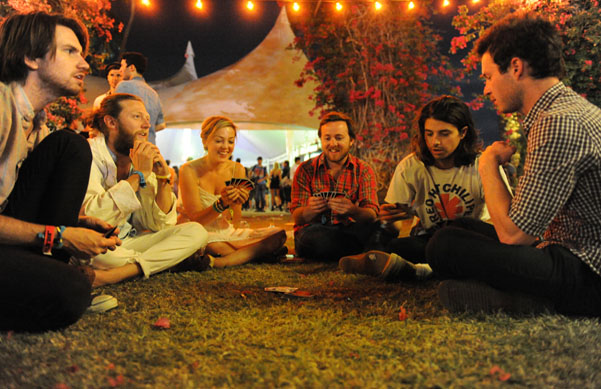 SUNDAY: As a kid, Uno was one of my favorite games so I was pretty excited when I spotted it in one of the lounges, and even more so when I got the guys of Delta Spirit to play it with me!
We all sprawled out in the soft grass near the VIP tents. "Does anyone actually remember how to play this?" multi-instrumentalist Kelly Winrich laughed, taking the cards out of the box. Then drummer Brandon Young took over and dealt the cards and we battled it out as the Strokes began to play on the mainstage nearby. It was that kind of perfect, surreal moment that could only happen at Coachella. --TENIEL HUMESTON
10.MOST ROMANTIC SPOT
10/41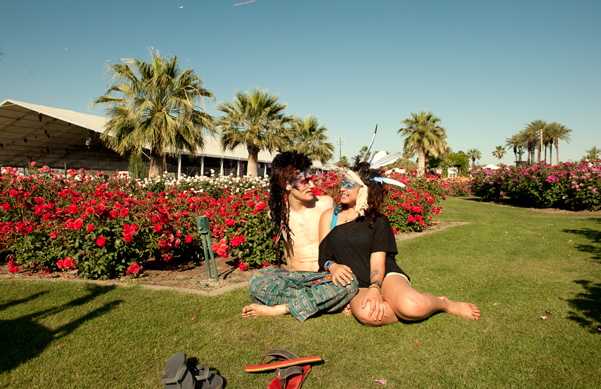 SUNDAY: Being an eligible bachelor I wanted to find the best place to take a date in the event that I find a keeper. I quickly discovered that finding such a spot in the midst of a massive desert festival is quite a challenge. Most of the venue is comprised of giant fields full of sweaty people which is not the best for fledgling romance.
I finally found the perfect atmosphere when I came upon a rose garden in a less traveled corner of the grounds. Inside I met Nathan and Muriel, who had also made the discovery. "It's so beautiful and seems so less crowded," Muriel said. -- JORGE DEL PINAL
11.HIGH SCHOOL MUSICAL
11/41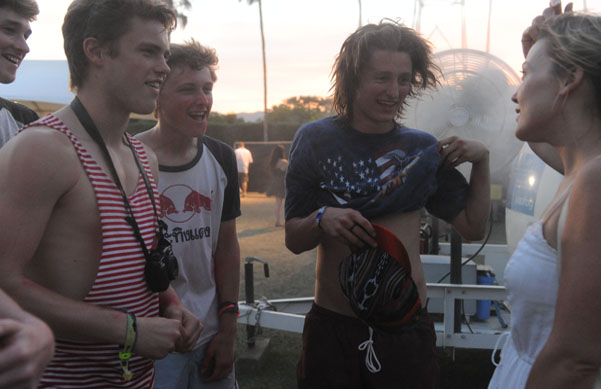 SUNDAY: Much like a watering hole in the wild, creatures of every description gathered at the misting machine each day. When Lucy and I saw these high school boys roaring like animals into the cool mist we couldn't help but laugh.
They were seniors at La Canada High School in L.A. and best friends since childhood. They've been coming to Coachella together since they were 15. In the fall they're leaving for different colleges across the country so this weekend is really special for them. When I asked if any of their parents worried about them coming out here by themselves as teenagers, all except one said they didn't. "My mom thinks I'm at his house," he said. --TENIEL HUMESTON
12.COACHELLA SOUVENIR
12/41
SUNDAY: For a Coachella first timer such as myself, one of the quintessential parts of the experience was scoping out the band t-shirts. I was in the market for a Kanye West item as I was most excited to see his performance later that night.
Considering the sheer volume of bands playing this weekend I was impressed with the massive selection at the merch area. After careful deliberation I went with a t-shirt featuring George Condo's artwork for Kanye's single "Power." And in case you're wondering -- I made sure to save the shirt's debut for when I got home to avoid being that guy who wears the artist's shirt at the artist's show. -- JORGE DEL PINAL
13.CREATORS PROJECT + SPIRITUALIZED
13/41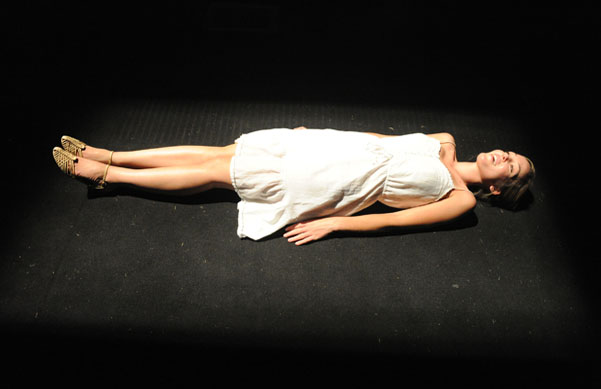 SUNDAY: Lucy and I had been dying of curiosity all weekend to see what was inside the giant silver structure looming over the Coachella grounds. The installation, a collaboration facilitated by the Creators Project between film director Jonathan Glazer and space rockers Spiritualized, was incredible.
Coming out of the festival frenzy and afternoon heat into a cool, dark, soundproof room was like walking into another dimension. The only light in the cavernous room fell in five distinct beams from the ceiling, reminiscent of a cathedral. When I stepped into each cone of light a different fragment of Spiritualized's classic album Ladies and Gentlemen We Are Floating in Space materialized like a gift from the heavens. --TENIEL HUMESTON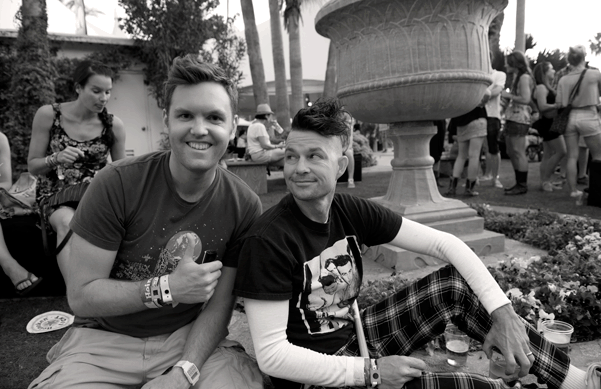 SUNDAY: Access to VIP areas in Coachella was a very surreal part of my festival experience. My most exciting celebrity sightings were Ke$ha, Usher, Katy Perry and Mac and Dee from Always Sunny in Philadelphia.
Another strange highlight was striking up a conversation with No Doubt drummer Adrian Young. I learned that No Doubt's new record is nearly complete and will hopefully be out in the fall. I also noticed Adrian was using a cane and when I asked what had happened, he said, "I broke my foot dancing. I've made half this record with a cast on." -- JORGE DEL PINAL
15.DRINKS WITH SKRILLEX!
15/41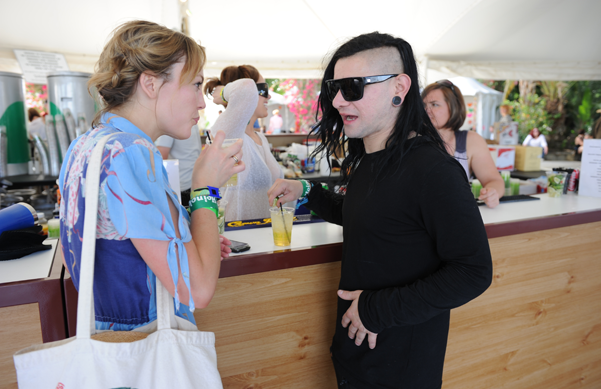 SATURDAY: After catching an amazing set yesterday, I became a fan of Skrillex, an L.A. based DJ on the rise. You can imagine my surprise when I was randomly introduced to him the next day in the VIP area.
When told I was writing for SPIN.com, he said, "Someone from SPIN wrote something really nice about my show yesterday." I admitted it was me (and also SPIN's David Marchese), and the consummate gentleman thanked me and offered to buy me a drink! Of course I accepted. We sipped vodka-Red-Bulls at the bar and chatted about musicians that inspired him (Daft Punk and Korn), and life in L.A. -- TENIEL HUMESTON
16.PAINS' KIP BERMAN SERENADES MALIA!
16/41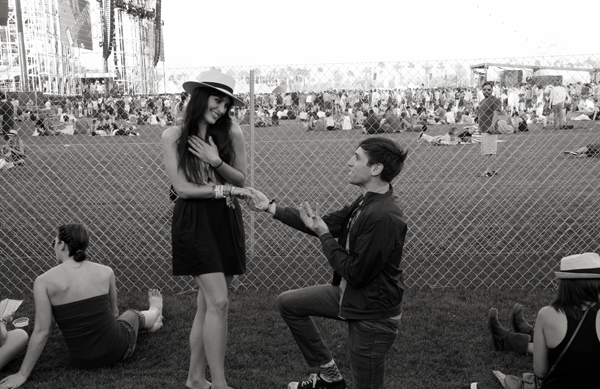 SATURDAY: Due to our busy day, photographer Malia missed one of her favorite bands, The Pains of Being Pure at Heart. Luckily for her we came across the band's singer, Kip Berman, who upon hearing of her plight went down on one knee and serenaded her with an a cappella rendition of the band's song "Heart in Your Heartbreak."
"I will forever feel like that song is just for me," Malia told me afterwards. "It's my song now." A nearby concertgoer who witnessed the spectacle jealously muttered, "That's not fair." -- JORGE DEL PINAL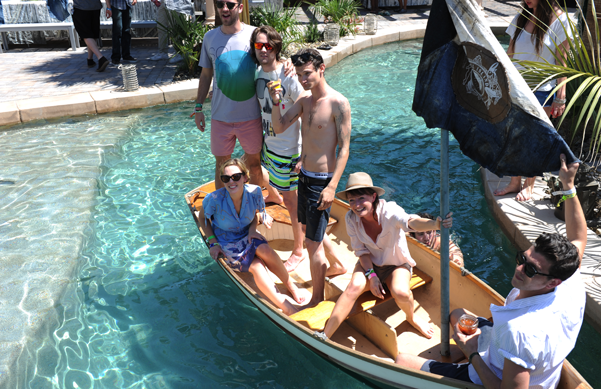 SATURDAY: Lucy and I noticed that one thing seemed awry at this lovely pool party brunch -- no one was in the pool! Breakfast mimosas in hand, we decided we'd be the first to set sail.
Moments after we'd waded over and made it safely into the wobbly boat, the energy changed and other people followed. Parched partiers left the arid shores and joined us for a refreshing moment of broken ice. -- TENIEL HUMESTON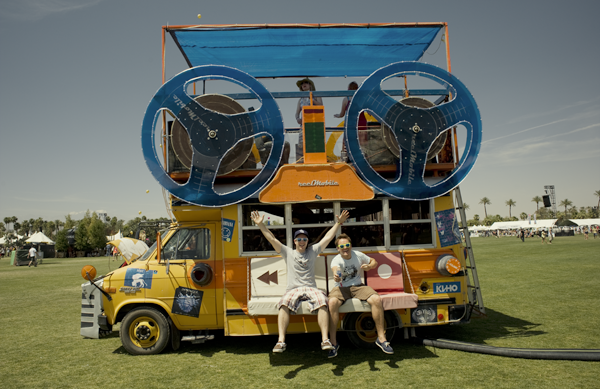 SATURDAY: After passing this giant audio tape truck sitting in the middle of the field countless times over the past two days I decided to find out its mysterious origins. I spoke with Slava Leonov, one of the fifteen people who created the truck in homage to the bulky Soviet audio players they grew up listening to. I wondered what would happen if you jumped on the play button seat on the side of the truck. "You can jump on it but it won't play," Leanov said. "It's just bright and shiny. It's a nice toy though." -- JORGE DEL PINAL
19.MANSION MADNESS WITH KING DAVID
19/41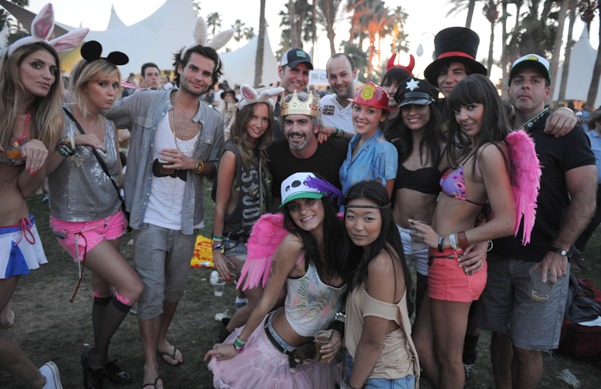 SATURDAY: We couldn't help but be drawn into the blissful realm of King David, benevolent ruler and master facilitator. Each year David, who owns a pharmaceutical advertising agency in New York, rents a mansion in Palm Springs, stocks it with upwards of $3,000 worth of costume props and invites friends from across the country to join him for a wild weekend of Coachella revelry.
David's followers lavished him with praise and constant affection. They were kind to me too, offering a red plastic fire hat and a space in their dance circle. "He knows how to make people happy," a beautiful model in pink angel wings and a pair of fuzzy rabbit ears told me. David claims the formula is simple: "Bring the right people together… and make sure they love music and costumes." -- TENIEL HUMESTON
20.DAFT PUNK IS PLAYING IN MY TENT
20/41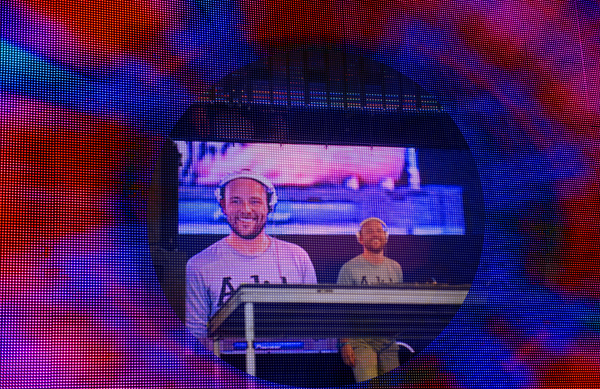 SATURDAY: Perhaps from seeing so many glow sticks and elaborate lights the previous night I was in the mood to hear some Daft Punk music from Tron. Unfortunately for me Daft Punk was not playing Coachella. I did my best to not think about Tron and went on with my day.
I went to see DJ Sander Kleinenberg on an unrelated recommendation and was thrilled to hear him playing the End Title song from Tron. I quickly discovered Kleinenberg was spinning a Daft Punk-approved remix of the song, providing me with a much-appreciated Tron fix. -- JORGE DEL PINAL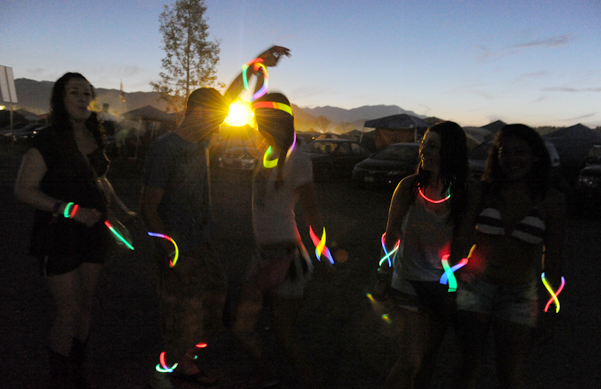 SATURDAY: We passed this colorful crew just as the sun set and the sky was going dark.Lucy had to stop them and take a photo. The group of friends had been coming to Coachella for the last five years, but this time they brought a secret weapon. Sarah, 23, said she got the box of glow necklaces from her boss, and "thought they'd be perfect for Coachella."
And as we watched our rainbow friends, on their way to see Empire of the Sun,disappear into the night, we decided they were perfect. -- TENIEL HUMESTON
22.BACKSTAGE WITH GOGOL BORDELLO
22/41
SATURDAY: Shortly after experiencing Gogol Bordello's energetic afternoon set I had an opportunity to chat with the band's magnanimous frontman Eugene Hutz.
The subjects we discussed were as eclectic as Gogol Bordello's music: Hutz proudly announced that he's been commissioned to create a new anthem for a soccer team in Ukraine; he lives in Brazil but would consider living in China; and admits his inner perfectionist bristled slightly about playing in the daylight.
But he knew he put on a great show. "Without any false modesty I must say we are the band who has combated, successfully, all these distractions," Hutz said. -- JORGE DEL PINAL
SATURDAY: I'd seen Gary Baseman's art before; adorably macabre figures in paint and plastic. At this year's Coachella, he literally brought his work with him.
We spotted Gary with one of his designs in his arms: a small stuffed toy with round pink eyes and a mischievous grin. "His name is Toby," Gary informed me. "He's been traveling around the world." Mr. Baseman is creating a book filled with photos of Toby's adventures. As he flipped through some of the images on his phone I saw this wasn't even Toby's first time at Coachella!
I was lucky enough to have my own moment with the cute little creature. Gary even took our picture, so it might just end up preserved for posterity in the hardcover, full color story of Toby's life. -- TENIEL HUMESTON
24.HE WANTS TO DANCE WITH ME
24/41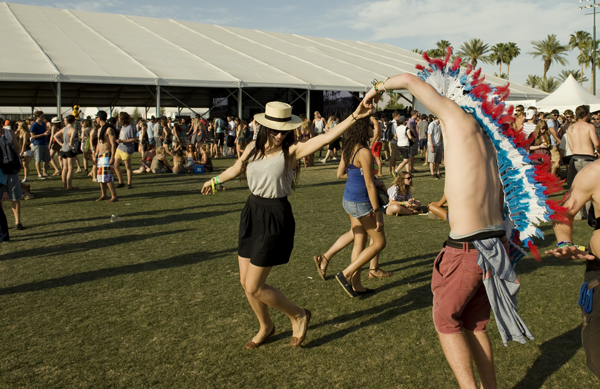 SATURDAY: While documenting the festival, photographer Malia struck up a conversation with John, a hilarious man wearing an Native American head dress and make up. After he making us laugh we decided to interview him.
He told us about his success using the costume as an icebreaker. This led him to show us his dance moves, which in turn convinced Malia to dance with him. He told us, "I'm wearing this head dress every Friday night for the rest of my life." -- JORGE DEL PINAL
25.BRIGHT LIGHTS AT BRIGHT EYES
25/41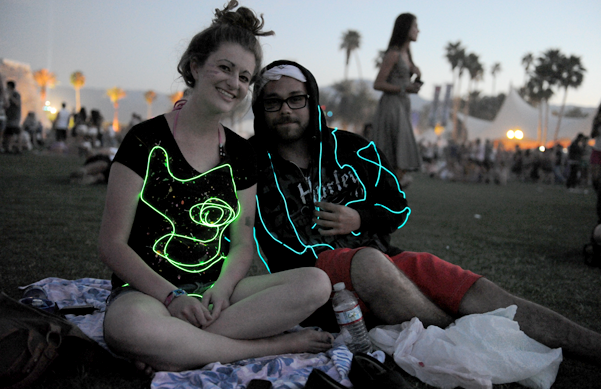 SATURDAY: With Conor Oberst crooning through the light evening breeze we were swaying our way across the field and, almost literally, stumbled across this lovely couple. They had happily parked themselves in the grass in front of the main stage, wrapped in a web of pulsating neon light. One of them told us the lights were music activated -- powered from a hefty battery pack inside his left pocket.
When I asked him if he and his lady were big Bright Eyes fans, he paused for a moment. "Oh, um, I know a couple of songs," he said. "We really just wanted to get a good seat for Mumford & Sons."-- TENIEL HUMESTON
26.HAMSTER WHEEL WORKOUT
26/41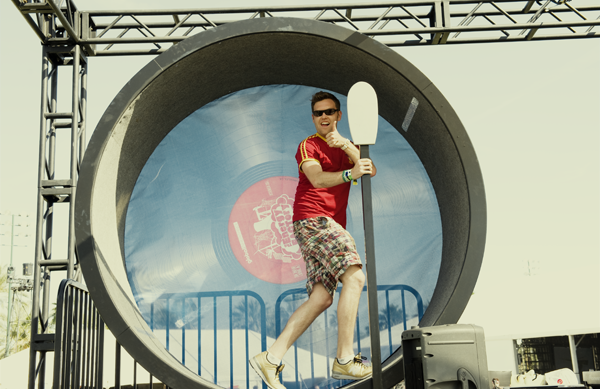 SATURDAY: I had a great first day at Coachella yesterday but I had one giant hamster wheel-sized regret: I inexplicably missed the opportunity to run in the wheel at Global Inheritance's stage, where human exertion is used to power the venue.
When I got back to my bed at the end of the night I tossed and turned, thinking about how I might have been tired enough to sleep if I had just ran on the wheel. Much like Jack at the end of Lost's third season, I knew that I had to go back. So the first order of business on our second day in was a jaunt on the wheel. -- JORGE DEL PINAL
27.HULA-HOOP DREAMS
27/41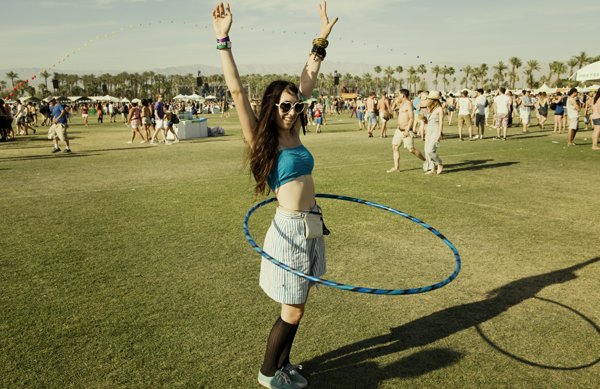 SATURDAY: After the apparent extinction of hacky-sacking at concerts, I was curious to find out what alternatives to dancing there would be at Coachella. I found my answer when I ran into Melanie, who was packing a purple hula-hoop.
Now that I had found the next big concert pastime I had to know which bands are best for getting your hoop on. "Today it was really fun hula-hooping to Gogol Bordello but I have a feeling Animal Collective is going to top it off," said Melanie. -- JORGE DEL PINAL
28.ROLLER-SKATING IN THE DARK
28/41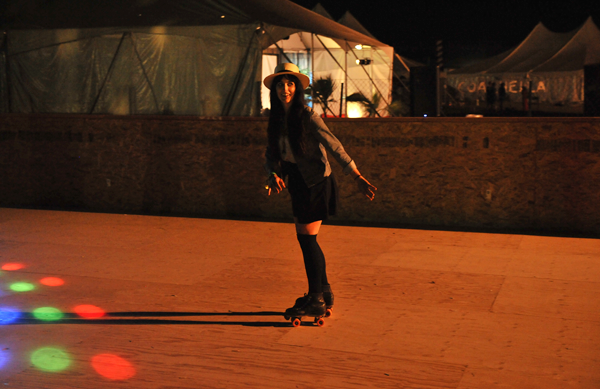 SATURDAY:When I saw a roller rink next to our Coachella home base at the Hyundai Base Camp Tent I knew something special would come to pass. As fate would have it my photographer Malia revealed to me that she was an avid skater until she was 14. We both knew it was time for her triumphant return and she jumped in the rink as soon as it opened. Afterwards she proclaimed, "I have rediscovered my love for roller-skating." -- JORGE DEL PINAL
29.THE AUSSIE CARAVAN
29/41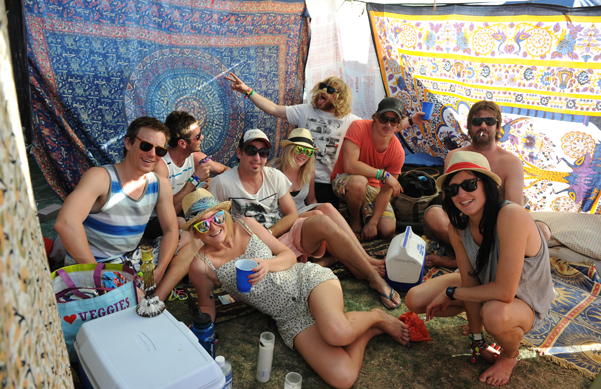 FRIDAY: Photographer Lucy Hamblin and I headed out bright and early into the sprawling green expanse of the Indio Polo Club, Coachella's annual site. As we walked through the campgrounds toward the festival entrance, we received our first friendly invitation: A group of Aussies invited us over and offered us a swig from their handle of vodka. (It was only 10 A.M., but I was raised never to refuse hospitality.)
They'd flown all the way from Melbourne to Canada and drove a rented mini-van from there to the festival. When I asked Matt, 23, which band he wanted to see he couldn't come up with one, saying, "I'm really here more for the good vibes." -- TENIEL HUMESTON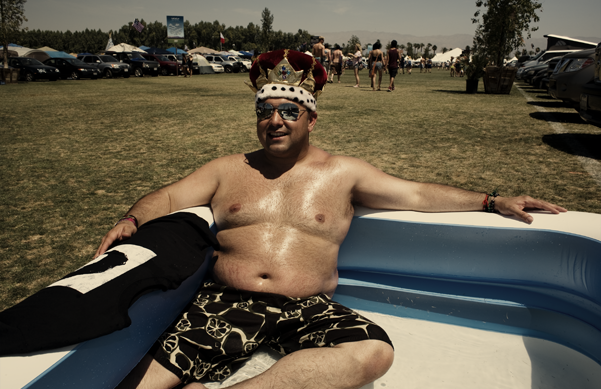 FRIDAY: This was the first person I met at Coachella. The "King of Coachella," as he called himself, wisely presided over this awesome pool in front of his camp just outside the concert grounds. "Each year we get more and more sophisticated," the King explained, saying that his loyal subjects have learned how to do the festival right from their previous Coachella experiences.
This year, to beat heat, the King and his friends used a little DIY ethic: through the instructional aide of YouTube they crafted homemade air conditioners out of coolers, PVC pipes, desk fans and a bag of ice. They also created a homemade shower. Seems like the King has truly earned his title. -- JORGE DEL PINAL
31.COACHELLA LOVE CONNECTION
31/41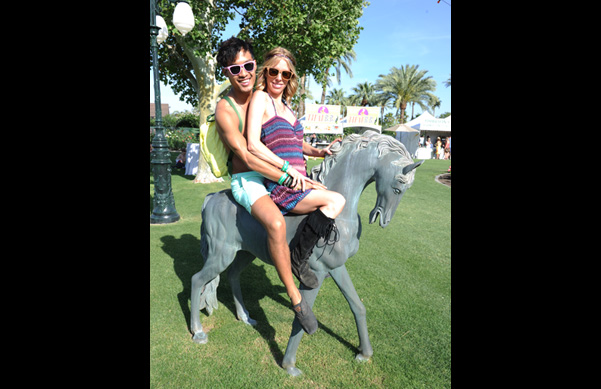 FRIDAY: When we ran into Corie and Giesse, it was clear that they were obviously, irresistibly, in love. We're suckers for that stuff so we went to talk to them, and their story was better than we could have imagined. The perfect Coachella connection.
"It was here a year ago," Giesse recalled. "We were both jammin' out at the xx during my favorite song 'Intro' and I saw her. Then, later, we randomly locked eyes under the foliage and that was pretty much that."
This year, their only festival goals are to decide whether to see the Black Keys or Cut Copy -- who are scheduled at the same time! --and to "make more history." -- TENIEL HUMESTON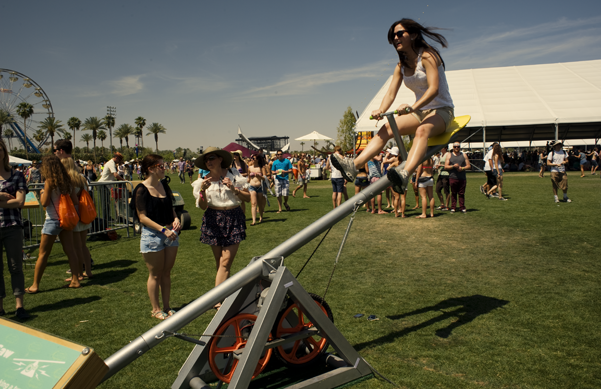 FRIDAY: I was so excited to find a seesaw on the field that I immediately jumped onboard without any question as to it's purpose. Needless to say I caught some sweet air. After I hopped off I learned that the energy created by my jumping up and down on the seesaw along with stationary bikes and human-sized hamster wheels in the area helped power a nearby DJ stage. I thought it was an incredibly fun idea that really takes crowd interaction to a whole new level. -- JORGE DEL PINAL
33.LUKAS HAAS AT ODD FUTURE
33/41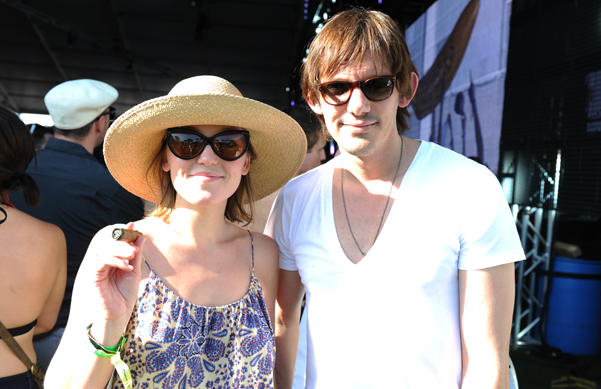 FRIDAY: At the Sahara tent, we stood on the edge of the dense and growing crowd waiting for Odd Future to go on. I took my anxious eyes off the empty stage for a moment and saw there was a cute boy to my right. He was smoking a cigar.
I'm not a smoker, but since we're here for new experiences I asked him if I could try it. My tall stranger said he was celebrating his birthday and was happy to share. He handed me the Cuban, and as I awkwardly pretended I knew what I was doing, we chatted about the festival and his birthday plans to "hang out with friends and see some music." Only as we were walking away and I glanced down at the release did I realize I'd just smoked my first cigar with Lukas Haas, star of Inception and Red Riding Hood. -- TENIEL HUMESTON
34.HI-FIVED BY ROBOTS
34/41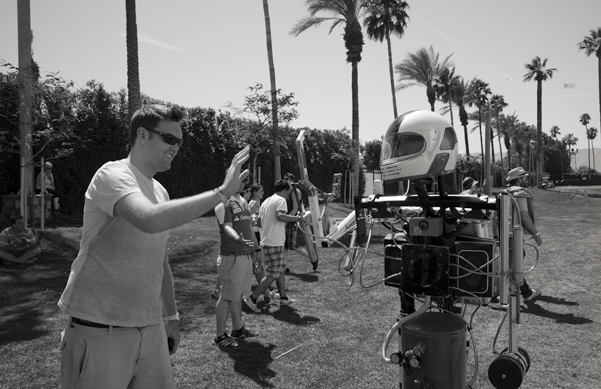 FRIDAY: While exploring the field, I stumbled upon a mobile talking robot. I asked it the first thing that came to my head: "Robot, do you have the ability to high-five me?" He nodded in the affirmative, raised his metal claw and we made it official. Drama arose soon afterwards when a concert goer challenged the robot to a dance-off. The robot accepted and efficiently defeated his human adversary. -- JORGE DEL PINAL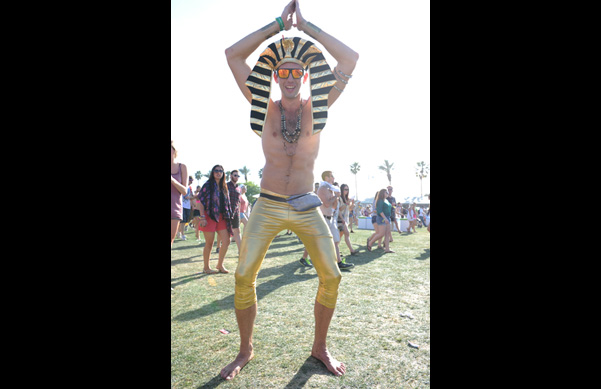 FRIDAY: When I was a kid, the King Tut exhibit came to my Texas town and changed my life. I was obsessed. For years I wore the purple T-shirt with his face -- in actuality a death mask -- on it. So, of course, when we came upon this gilded god outside the Mojave tent I had to meet him.
It wasn't just me. His energy was so magnetic, strangers lined up to give him hi-fives and compliments like moths to his gold lamé flame.
"I just started dressing like this at Burning Man…I got some good attention. Now I wear it to all the festivals." Ray, 25, works as a real estate management software engineer. "This is how I let loose. I mean, I work in a cubicle, so..." -- TENIEL HUMESTON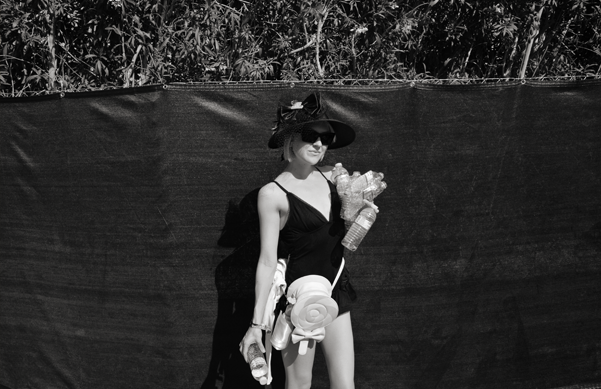 FRIDAY: I was surprised to find that there wasn't very much litter on the grounds of the Coachella. I learned that this was in part thanks to a brilliant move by the organizers of Coachella: Concertgoers can turn in ten empty plastic bottles in exchange for a new bottle of water.
Despite my best efforts I wasn't even able to cobble together enough to earn a new bottle because everywhere I went the ground had been successfully picked up. Well played, Coachella, well played. -- JORGE DEL PINAL
37.SKRILLEX SLAYS WITH JONATHAN FROM KORN
37/41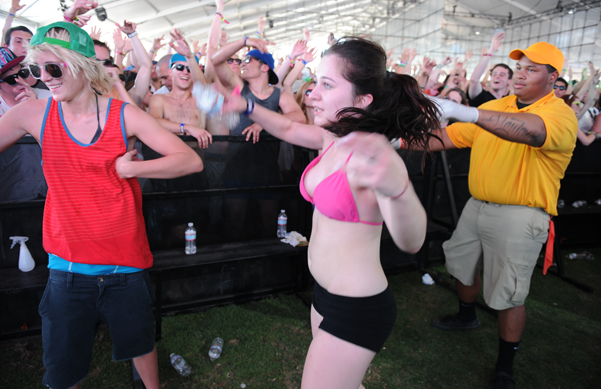 FRIDAY: Neither of us knew much about Skrillex, but Lucy and I were immediately drawn to the good vibes radiating from the Mojave tent. The raven-haired electro DJ had people up and moving, packed in the Sahara tent like happy sardines in the sweltering afternoon heat.
When Korn's Jonathan Davis appeared onstage during their new collaboration, "Get up," the electro love-fest reached a crescendo. Feverish fans jumped the barricades and created their own dance party in front of the stage. It was howling, arms pumping, unadulterated joy. -- TENIEL HUMESTON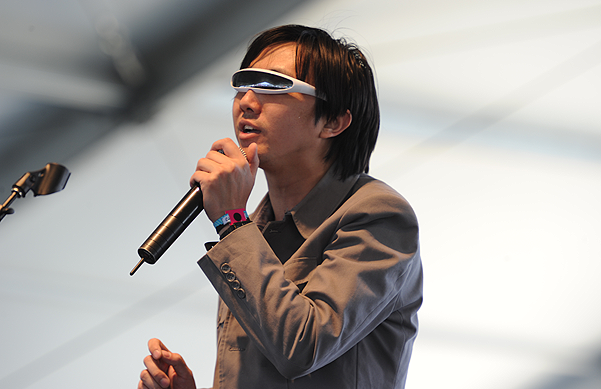 FRIDAY: When I saw a band called New Pants on the schedule I was curious. They played early and still managed to fill the dance tent. We heard they were the first Chinese band to ever play Coachella and were massive stars back home. I could see why. I'd never heard any of their songs before but was instantly intrigued and entertained. The lead singer had that nerdy yet confident thing I can't resist -- plus a robot head and some sweet dance moves. -- TENIEL HUMESTON
39.LEARNING TO DUBSTEP
39/41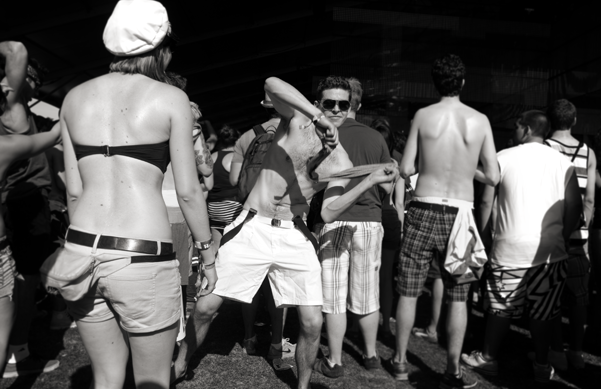 FRIDAY: I acquired a proper introduction to live dubstep thanks to 12th Planet. As mesmerizing lighted banners flashed in the tent above, the L.A. outfit garnered the liveliest crowd I had seen. Anyone and everyone in earshot seemed to be throwing their hands up and dancing. As the crowd grew, it spilled over from the shaded tent into the overachieving afternoon sun. This didn't seem to dissuade anyone from dancing and they continued going nuts in the intense daylight. -- JORGE DEL PINAL
40.HUMAN TEDDY BEARS
40/41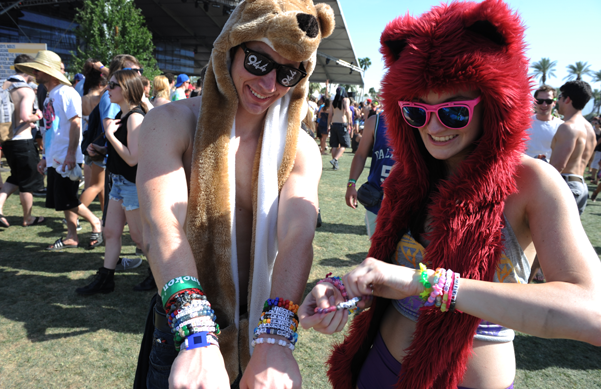 FRIDAY: We immediately made friends with Blaine and Kelly, who were dancing, laughing, sweatier, sexier versions of my childhood teddy bear, Mr. Boo. They just got back from Ultra Fest in Miami two weeks ago and have no plans to stop after Coachella. "I'll be on the computer at noon on Saturday buying tickets to the next festival," said Kelly, 24.
They find their furry caps in shops in L.A.'s Little Tokyo and online. And it turns out they're not just adorable, but utilitarian; sort of club kid cargo pants. "The hat is hot," she says, slipping her hands into the dangling paws. "But totally worth it because it has these little pockets." -- TENIEL HUMESTON
41.LEGENDARY ICE CREAM SANDWICH
41/41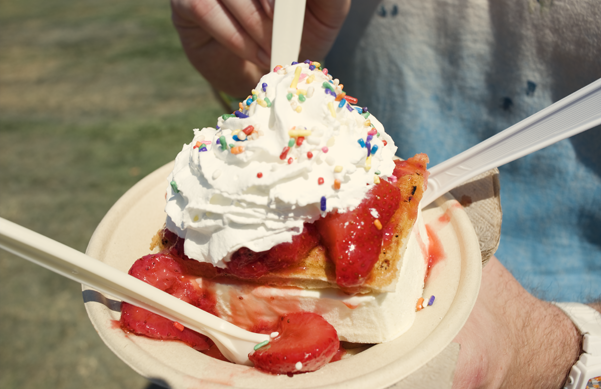 FRIDAY: As the afternoon was winding down it became clear that eating a refreshing treat would be the best way to cool down. I wandered the food area with vague ideas of typical concert icy lemonade or a boring old ice cream cone. These ideas were immediately jettisoned when I saw a giant sign adverting waffle ice cream sandwiches.
Upon closer inspection I was astonished by the treat which fate had presented me: a block of vanilla ice cream between two Belgian waffles topped with strawberries, whipped cream and sprinkles. The downside? I don't know if I can ever go back to regular ice cream sandwiches. -- JORGE DEL PINAL