With the release of their excellent new album Collapse Into Now next Tuesday, R.E.M. have mapped out an ambitious project by commissioning a music video for each of the 12 tracks, whose directors include actor James Franco and documentary icon Albert Maysles (Gimme Shelter).
The first few have just rolled out: Check out clips for"Mine Smell Like Honey" (directed by award-winning documentarian Dominic DeJoseph) and "Überlin" (directed by Sam Taylor-Wood, who helmed the John Lennon biopic Nowhere Boy) below, and head here to view Tom Gilroy's dramatic clip for "It Happened Today."
Singer Michael Stipe told The New York Times the project was meant to reflect the technological changes that have affected artists and the music industry. "It's my attempt to approach the idea of an album in the 21st century, and acknowledging that technology has made it possible for the idea of an album to be anything," he said.
More videos will be unveiled in the next few days, including the Michael Stipe co-directed clip for the album's anthemic opener "Discoverer." Get the full schedule.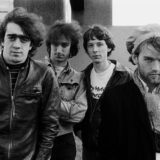 WATCH: R.E.M., "Mine Smell Like Honey"
https://www.youtube.com/embed/Fuvi7AUfZPo
WATCH: R.E.M., "Überlin"