Get ready, America — Liam Gallagher is coming back!
The ex-Oasis singer's new band Beady Eye just dropped their debut album, Different Gear, Still Speeding, launched their tour in Glasgow, and today on SPIN.com are unveiling their first statesidedates, which are set for Chicago, Toronto, and New York City in June.
The band — Gallagher, guitarists Gem Archer and Andy Bell, and drummer Chris Sharrock — played their first live show to a sold-out crowd Thursday at the Barrowland Ballroom in Scotland's largest city. SPIN.com has exclusive live and backstage photos from the show, plus video of the group — joined live by keyboardist Matt Jones and bassist Jeff Wootton — playing "The Roller," the first single from their debut album Different Gear, Still Speeding. We also have an exclusive video clip of Gallagher and Archer chatting about their album and tour.
Scotland's The Independent said the hour-long Barrowland show "veered from expansive Floydian psychedelia to the pleasing La's jangle of 'For Anyone.' These and 'The Roller,' a comeback song which dared to stroll at its own pace, were greeted with that most Glaswegian of appreciation gestures, the thrown (plastic) pint glass.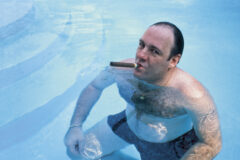 "They sound encouragingly refreshed… you realize watching them that Beady Eye are in the very unique position of possessing iconic impetus while being newly unchained from the weight of their past." (They didn't perform any Oasis songs.)
Gallagher and Archer recently chatted with SPIN about their new album and upcoming U.S. tour. "We're gonna go everywhere and run this album down people's throats, but in a nice way," Gallagher said. "I want to be in the best band in the world again."
Are you excited for Beady Eye's North American tour dates? Tell us in the comment section below.
Tickets go on sale on March 11. For details, visit Beady Eye's website.
Beady Eye tour dates:
6/18, Chicago, IL (Metro)
6/20, Toronto, ON (The Sound Academy)
6/23, New York, NY (Webster Hall)
Beady Eye Live at Glasgow's Barrowland
https://www.youtube.com/embed/clRs4cyyFVE
Beady Eye Talk Tour and Album
https://www.youtube.com/embed/oYW7U5U3utw