When SPIN spoke with Ninja, one half of South African rap weirdos Die Antwoord, last October, he revealed he met songwriting partner Yo Landi Vi$$er after she tried to pickpocket him: "She took a hundred fuckin' bucks… then she said sorry and bought me a little toy."
That incident led Ninja to nickname her Rich Bitch, and in a new video for the song of the same name, the duo revisit Vi$$er's (perhaps) mythical past as a pickpocketer. True to form, "Rich Bitch" is an absolutely wild, freakish video and a metaphor for her rise from living in the slums to global pop stardom.
Evidently, Die Antwoord's success has allowed Yo Landi to squander her major label advance money on a hot tub, gold lame Cat Woman suit, and a gilded toilet, which she puts to good use in this video. Gross!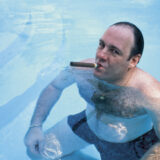 Watch the clip and tell us what you think in the comments.