Tom Waits, Neil Diamond, Alice Cooper, Darlene Love, and Dr. John were among the musicians inducted into the Rock and Roll Hall of Fame Monday night in New York City. The musicians were honored at the 26th annual gala held at the Waldorf-Astoria, which was capped with rousing performances featuring Bruce Springsteen, John Mayer, and others. The ceremony will be broadcast Sunday, March 20, at 9 p.m. on FUSE.
The inductees — who also included industry vets Jac Holzman (founder of Elektra Records) and Art Rupe (from Specialty Records), along with singer-songwriter Leon Russell in the "sideman" category — were saluted by a diverse selection of peers. And the presenters offered plenty of irreverent induction speeches. Neil Young praised Waits by calling his music "indescribable," before joking, "I'm here to describe him." Paul Simon, meanwhile, wondered why it had taken so long for Diamond to be inducted. "Six words: 'You Don't Bring Me Flowers (Anymore),'" he cracked, referring to Diamond's maudlin 1978 ballad with Barbra Streisand.
The night was marked by some genuinely touching moments, however. During her tribute to girl group singer Love, Bette Midler recalled how Love's voice had inspired her to pursue a music career. "She changed my view of the world," Midler said. Meanwhile, Elton John — during his speech for Russell — was delighted to see the oft-overlooked musician finally getting his due. "Tonight is the culmination of an effort on my behalf to try to get this man recognized for his incredible achievements," John said. "There is no finer musician out there."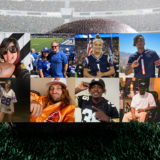 But it was Alice Cooper, sporting a live boa constrictor, and Rob Zombie who brought some of the funniest moments to the fete. During his tribute to Cooper, Zombie praised the shock-rocker for incorporating theatrical elements to stadium shows. "They were more than a band — they were like a murderous gang of drag queens," he joked. The duo later teamed up for a raucous version of Cooper's classic "School's Out," which featured a gang of schoolchildren bouncing about the stage.
True to past induction ceremonies, the night was capped off by a string of one-off performances. Young and Waits teamed up for a rendition of Waits' "Get Behind the Mule," while John Legend traded piano solos with Dr. John during "Such a Night." Bruce Springsteen also dropped by to join Love for a version of the Disney classic "Zip-a-Dee-Doo-Dah." The gala wrapped up around midnight when Love, Midler, John, Cooper, Russell, and Diamond joined together for a joyous take on the Crystals' 1963 classic "Da Do Ron Ron,"