One of the best reasons to love Austin folk-rock band Okkervil River is frontman Will Sheff's lyrics, and in the group's new video for "Wake and Be Fine," the first single off May's I Am Very Far, those words get the spotlight in a contemporary homage to Bob Dylan's groundbreaking 1965 clip for "Subterranean Homesick Blues."
The video is shot in black and white and features the song's lyrics as if being screened by a dirty classroom film projector while the band rocks out in the foreground.
The song depicts a scattered collection of images in a dream — lovers in bed, a chaotic run through the snow, ships at sea — tied together by the chorus' mantra: "You've still got time / To wake and be fine."
"Dreams were a big influence on I Am Very Far, the weird crumbling-apartlogic of dreams, and the strange, strong emotions dream situations takeon," Sheff explained to NPR, who premiered the clip.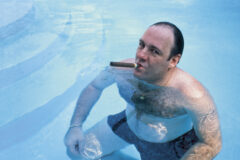 Around the two-minute mark, the accuracy of the lyrical display fades and an assortment of random phrases appear. "The video derails a bit and you sort of lose trust in the words on the screen and have to decide where to give your attention," director Daniel Gibbs told NPR. "I think that these 'slightly off' moments and esoteric lyric alterations really supported the 'dream' aspects of the track."
I Am Very Far arrives May 10, and the band kicks off an extensive U.S. tour May 31 in Atlanta.
WATCH: Okkervil River, "Wake and Be Fine"