Katy Perry's career is built on the outrageous and epic — have you seen the "California Gurls" clip or her husband Russell Brand?
But her just-released video for "E.T.," from her 2010 blockbuster Teenage Dream, is just, well, out of this world.
As directed by Floria Sigismondi (The Runaways), the clip has Kanye traveling the stars in a space craft while rapping about alien sex, probing, Prada space suits, Shrek, and drinking at a dive bar on Mars. Twirling in space, Perry transforms from a frail alien into a Queen Amidala-styled empress, who descends to a scorched earth and, with her magic touch, revives an on-the-brink-of-death robot and transforms him into a hot humanoid.
"Your kiss is cosmic / You're from a different dimension," her auto-tuned voice soars over a pop-industrial beat and trace-y synths. "This is transcendental on another level."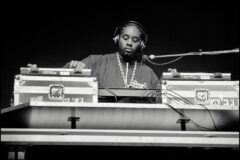 The big surprise comes at the end, though, when Perry strips off her gown to reveal that she's actually… well, see for yourself. But prepare to be a smidge creeped out.
WATCH: Katy Perry's "E.T." Video
Katy Perry – Kanye West – Free Music Videos – Top Songs