It's been five years since Blake Sennett, best known as the co-songwriter, along with Jenny Lewis, for Rilo Kiley, released material under his solo moniker, the Elected. But now he's got a brand new album, Bury Me in My Rings, set for a May 17 release. Hear the slinky, R&B-influenced "Babyface" right here.
LISTEN: The Elected, "Babyface"

The song is a playful throwback to the late-'70s-era Rolling Stones, when they experimented with funkier sounds, without veering into disco territory. "I wanted to hit on how the Stones and Talking Heads have great mid-tempo songs where the bass is doing something so groovy and the drums are so simple," Sennett tells SPIN. "Bass is the unsung hero of rock'n'roll and I don't think it gets enough press."
"Babyface," and Bury Me in My Rings as a whole, signified a return to music for Sennett, who had, in his words, "put down his guitar" after Rilo Kiley wrapped touring for their 2007 album Under the Blacklight. "I was just tired of it," he admits. "And I was frustrated and sad with music a little bit."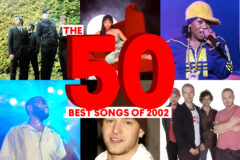 Sennett switched his focus to a screenwriting career. While working on a tough rewrite of a feature film, an old friend, Jason Cupp, who mixed the Elected's 2006 album, Sun, Sun, Sun, came to visit Sennett in L.A. and suggested the pair work on music the entire time.
"It was amazing," Sennett recalls. "This process that started this record was the most fun I've ever had because there were no expectations and there were no songs to begin with." And those sessions reinvigorated Sennett's musical drive, and kickstarted a flurry of writing and recording.
As with the making of the album, Sennett's approach to the launch of Bury Me in My Rings is casual: They'll play album release shows in both L.A. and New York in May, then consider a tour in June or July.