Mike Starr — founding bassist for grunge icons Alice in Chains, whose vicious battle with addiction was documented on the reality show Celebrity Rehab — was found dead yesterday due to undisclosed reasons in a home in Salt Lake City, Utah, according to TMZ. He was 44.
"It's a terrible shock and tragedy," Starr's father told the website.
Starr was a member of Alice in Chains during the Seattle group's key years, performing on breakthrough albums like Facelift and Dirt. But he would go on to quit the band during their peak, while they were touring behind Dirt.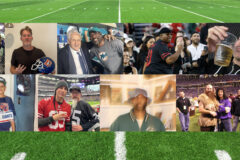 Starr, who had a brief stint playing bass with ex-Black Sabbath members in the metal group Sun Red Sun after his Chains departure, saw his music career ease up in recent years, although he surfaced again when he joined the cast of Dr. Drew Pinsky's Celebrity Rehab, which aired last year and documented his battle with drug addiction.
Alice guitarist Jerry Cantrell — who tours under the Alice in Chains name after singer Layne Stayley's drug overdose death in 2002 — blasted the show for exploiting Starr, saying "it's a real travesty and a shame to put people in a really vulnerable situation like that and make it entertainment for people to see."
Following his appearance on Rehab, Starr continued to struggle with addiction and was busted in February for drug possession.
Alice members Cantrell and drummer Sean Kinney responded to Starr's death, saying in a statement,"[They] are mourning the loss of our friend and ask that the media respect their privacy — and the privacy of the Starr family — during this difficult time. Their thoughts and prayers are with their family."