When SPIN caught up with Death Cab for Cutie's Ben Gibbard last year to talk about the band's upcoming Codes and Keys (out May 31), the singer said he wanted to move beyond the brooding, self-loathing lyrics of 2008's Narrow Stairs for a more upbeat record. "I didn't want to write those songs again," he said.
Gibbard kept his word. The band's first single from Codes and Keys was released Monday, and the track proves Gibbard — who recently moved from Washington to Los Angeles with his wife, actress Zooey Deschanel — is in a happier state of mind these days, especially when he sings uplifting lyrics like "There's nothing to fear / Save the tears, save the tears."
Sonically, Death Cab have also moved beyond the studied kraut-rock-inspired grooves of their last record for peppier swing. "You Are a Tourist" is a sprawling pop anthem, with a punchy beat and glistening, Edge-style guitar melodies.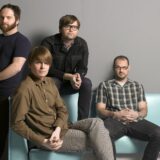 PHOTOS: Check out intimate pics of Death Cab on the road and in the studio.
Bassist Nick Harmer dropped by Seattle radio station The End to premiere the song, and he also revealed Death Cab's plans to promote the album, which includes a Live DVD from their hometown of Bellingham, WA, set for release in late May. "It looks and sounds awesome," he says. "And there's this little mini documentary of us driving around Bellingham and reminiscing." They'll also hit the road for a Spring tour on May 18; check out those dates here.