Brian "Danger Mouse" Burton revealed last November that he was working with Daniele Luppi on a Spaghetti Western-inspired project dubbed Rome, featuring guest vocal spots from Jack White and Norah Jones. The album is now due out on May 17, and Burton and Luppi have released a trailer where they talk about the project's origins – and tease snippets of music.
In the clip, Luppi and Burton open up about traveling to Rome, Italy, to record the symphonic score with legendary Italian session men, but it's Jack White who offers to clip's most insightful moments, talking about his unconventional approach to recording his contributions.
"I rode around in a car listening to the instrumentals, and I had a handheld recorder and I sang whatever came to mind…to all the songs," White says. "And it's the ones that spoke to me more and more as I kept driving around, and finding phrases that meant something to me, and vocal melodies that meant something to me, and [I] built it up that way."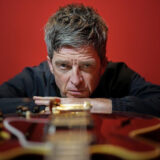 Burton adds that Rome is a "very visual album…about love, I guess." The trailer is also rounded out with brief snippets of music, including a rollicking acoustic ballad featuring Norah Jones' sumptuous vocals.