A No. 1 album, with 500,000-plus in sales. Grammy nominations. MTV VMA performances. To say 2010 was a big year for Atlanta rapper B.o.B. would almost be a massive understatement. But there's no rest for the industrious MC: He's hard at work on the follow-up to The Real Adventures of Bobby Ray, and told SPIN it might be out this year!
"I'm planning on releasing it, hopefully, this year, but if not there will definitely be music out this year," he said. "I've been working on this since before the first album. I feel more connected to this album."
While he couldn't reveal anything more detailed when he sat down to talk with us at the SPIN Shed in Austin, Texas, B.o.B. did offer some insight into the motifs he'll explore with the new material. "It will be an even more direct reflection of what I've experienced, pulling the fans into my world," he revealed.
On Adventures, B.o.B. looked outside the traditional hip-hop sphere for collaborators, and he will continue to look anywhere and everywhere for inspiration. "You have to be meant to find it," he said, tapping his foot along to a performance by British buzz band the Vaccines that was going off next door. "You really just have to stumble upon it…for me it's like stumbling down a rabbit hole."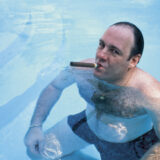 Watch: B.o.B. at the SPIN Shed