At the San Francisco Noise Pop Festival, Ben Gibbard delivered one of the most talked-about sets by previewing material from Death Cab for Cutie's new album, Codes and Keys (out May 31), as well as a solo track that's set to appear on the soundtrack for Russell Brand's Arthur movie remake. Crisp bootlegged versions of those songs have now appeared online; stream them below (via TwentyFourBit).
The biggest highlight was Gibbard's debut of the title track from Death Cab's album: a spare, mournful ballad featuring nothing more than Gibbard's earnest croon and piano. Expect that song to sound radically different on record: Gibbard recently told SPIN that the tune is "aching and gorgeous" and features a string section.
PHOTOS: Check out intimate pics of Death Cab on the road and in the studio.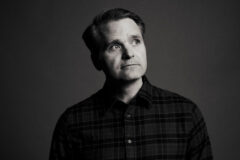 Gibbard also previewed a solo track titled "When the Sun Goes Down on Your Street," which will appear on the Arthur soundtrack. Like "Codes and Keys," the song is a delicate, lilting ballad, with finger-picked acoustic guitar that recalls early Bob Dylan.