Brit alt-rock vet (and all around SPIN fave) PJ Harvey just released her excellent new album, Let England Shake, and now she has a eerie new music video for its title track. Watch below!
The clip is the fourth release from a series of 12 videos directed by Seamus Murphy, each accompanying one song on the album. "Let England Shake" opens with footage of a farmer named John Diment — a native of Dorset, Harvey's home county and the location where the album was recorded — reading the song's opening lyrics; several of Murphy's videos will similarly employ non-actors from across England to read Harvey's words.
Watch the other three already-released videos here.
The video then segues into footage of an abandoned and decrepit British amusement park, as the Merry-Go-Round and other rides operate without any revelers in sight. "The dark, slightly hysterical lilt of the melody made me think of a fairground run by Alfred Hitchcock on a bender," Murphy told Newsweek. "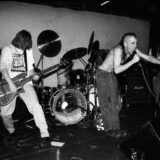 Meanwhile, in her high-pitched coo, Harvey explores themes of war and conflict between nations over a jumpy xylophone riff. In a recent interview with the AV Club, she discussed her writing style and the inspiration on Let England Shake.
"I wanted to tap into the emotional quality [of war]," she said. "What I hadn't felt was that I was at a point in my writing career where I could write about these things in songs and do it well. I didn't think I was at that stage, or had the skill to do that yet, and it's only really the last three or four years in writing this album that I began to try, and having learned more, being a bit older, and having the confidence to try to put some of the world into the song."
The album's sound was inspired by traditional music — "everything from Cambodian traditional music to Russian to Chechnyan, Georgian, Indian," she said — and its lyrical themes are also border-crossing, she explained.
"There's a whole variety of lyrics going on on the record, everything from World War I up to Iraq, or possibly Bosnia. I had all these different wars in my mind, and many different countries in my mind… If it's a song that's addressing England, there could also be emotions that other people could recognize in their own countries, or the way they feel about their country…"
Watch PJ Harvey's new music video below, then tell us what you think in the comment section.
PJ Harvey, "Let England Shake"
https://www.youtube.com/embed/I2Qlb0qFLFE?rel=0