After teasing snippets of songs off their forthcoming, as-yet-untitled album, out April 12, the band has now dropped a full music video for lead single "White Limo." Watch it below!
In the clip, filmed in typically campy Foo Fighters style, Motorhead's main man Lemmy drives a vintage white Cadillac limo through Los Angeles while the various members of the band — including back-in-the-fold axeman Pat Smear — pile in back, before rocking out alongside the ride. But Lemmy's hard partying ways ultimately lead to disaster.
The song is a total rager, with frontman Dave Grohl wailing out the lines in a sandpapered howl, by far one of the most aggressive tracks the band's ever released.
Watch the clip and tell us what you think in the comments.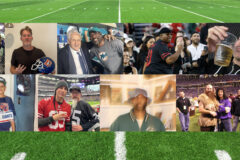 Foo Fighters, "White Limo"
https://youtube.com/watch?v=ebJ2brErERQ%3Frel%3D0