While Sunday night's Super Bowl telecast featured its share of musical lowlights — Christina Aguilera flubbing the words to the National Anthem, the Black Eyed Peas' decidedly unevenhalftime show — the commercial breaks provided loads of memorable moments, featuring everyone from Justin Bieber and Ozzy Osbourne to Joey Ramone and Jon Spencer Blues Explosion. We've collected the best videos below.
Eminem appeared in two separate ads, and while his animated cameo in an ad for Lipton Brisk was hilarious, his spot for Chrysler's new 200 sedan came on more like a moving tribute to the revival of his once-great hometown of Detroit than a paid celebrity endorsement.
Other highlights: Jon Spencer's blazing rendition of Ram Jam's "Black Betty" for a Volkswagen commercial, Ozzy reviving his "Who the fuck is Justin Bieber" gaffe for a Best Buy spot, Joey Ramone's cover of Louie Armstrong's "What a Wonderful World" for FOX's The Daily, and more. Let's hear it for corporate sponsorship!
Outside the broadcast itself, avowed sports nut Lil Wayne live-blogged the game for The Wall Street Journal. Read a recap here.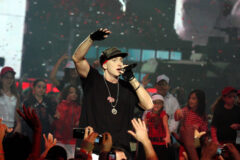 Watch the best musical moments from Super Bowl XLV's ads here:
Eminem's ad for Chrysler

Eminem's ad for Brisk

Kenny G's ad for Audi

Justin Bieber and Ozzy Osbourne's ad for Best Buy

Elton John's "Tiny Dancer" featured in Budweiser spot

Jon Spencer's ad for Volkswagen

Joey Ramone's "What a Wonderful World" cover for The Daily
https://youtube.com/watch?v=aeM1xNrUZqw