It wasn't until the encore that PJ Harvey finally spoke.
"Thank you," she said, leaning hesitantly towards the microphone onstage at London's Troxy, playing the first live show behind her new album, Let England Shake. "Thank you very much."
The response this provoked from the 1,200-strong crowd was one of palpable relief: At last, the ghostly presence of the past 90 minutes felt tangibly real. If, before this, the 40-year-old singer had remained notably detached from her audience, both spiritually and physically, then this was entirely deliberate. She may well have once prowled a stage in a pink catsuit (back in 1995), but for these gigs supporting her new album, there were no frills for one overriding reason: These songs spoke for themselves.
Let England Shake is Harvey's war album, and concerns the endless futility of global conflict, from the atrocities of Gallipoli in 1915 to the ongoing conflicts in Iraq and Afghanistan. The ensuing tour, then, was never going to benefit from song and dance routines, and not once tonight did she say to the crowd, "Hello London, let me see those hands."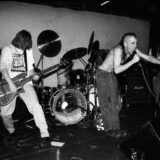 Instead, dressed like Lady Gaga's spectral great-grandmother in black Victorian dress and feathery headgear, she remained sinister, aloof, and at arm's length from everyone. She wouldn't even have anything to do with her band — John Parish, Mick Harvey, and Jean Marc Butty — who congregated over towards the left of the stage, while she remained spotlit on the right, cradling her autoharp in the crook of her neck, and providing lonely but faithful readings of each harrowing song, the vast majority coming from the new record.
"I have seen and done things I want to forget," she sang in a disarming falsetto croon in "The Words That Maketh Murder." "A corporal whose nerves were shot climbing behind a fence / Death lingering, stunk."
The mood thus set, she perpetuated it throughout "All and Everyone" ("Death was everywhere"), "In the Dark Places" ("So our young men hid with guns"), and even the gentle, reggae-infused "Written on the Forehead" ("War is here in our beloved city").
The overall effect was chilling in the way horror movies are chilling: you want to look away, but can't. "Down By The Water," then, her sinuous hit song from 1995, practically came as light relief when she slipped it in mid-set. Yes, okay, it's yet another song about death — specifically, murder — but Harvey brought to it something otherwise utterly absent from tonight: a throbbing pulse, and an unambiguous lust.
There were three songs in the encore, each lifted from her back catalogue – "Meet Ze Monsta," "Angeline," and "Silence" — but none fit the usual criteria of typical encore requirements by being neither big hits nor boasting joyful call-and-response choruses. They did, however, form a fittingly solemn conclusion to a frequently uncomfortable and endlessly fascinating show from the woman that surely is the most captivating songwriter of her generation.
Setlist:
Let England Shake
The Words That Maketh Murder
All & Everyone
The Guns Called Me…
Written on the Forehead
In the Dark Places
The Devil
River
Sky Lit Up
The Glorious Land
The Last Living Rose
England
Bitter Branches
Down by the Water
C'mon Billy
Hanging in the Wire
On Battleship Hill
Big Exit
The Colour of the Earth
Meet Ze Monsta
Angeline
Silence