Ke$ha, our favorite f*ck up, is back with another provocative new video, and this time, while hyping her new song "Blow," she does battle with former Dawson's Creek star James Van Der Beek in a battle of rainbow-shooting pistols (and orifices). Sadly, unicorns — dressed in tuxedos — get caught in the crossfire. Watch below.
(Yes, this is what actually happens in the video. No, we did not dose on LSD during our lunch break. And yes, we continually find something massively entertaining about this tartlet.)
In the clip, the 23-year-old Nashville girl duels with Van Der Beek, James Bond-style, then refers to him as "Van Der Douche." The actor retorts, "I don't appreciate you slanderbeeking my name, Keh-dollar-sign-ha." After she dispatches him in the gunfight, Ke$ha calls him something entirely more morbid when she mounts his head on her wall.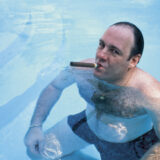 Watch the video below and tell us whether you love it or hate it in the comments. To check out our review of Ke$ha's current headline tour, click here.
https://youtube.com/watch?v=CFWX0hWCbng%3Frel%3D0