It's been a minute since Kanye West posted controversial comments on his Twitter — remember his beef with Matt Lauer? — but the rapper is back in action by offering his divisive thoughts on abortion — and he's starting to catch flack from artists like Lily Allen.
On his Twitter on February 23, West unexpectedly Tweeted about the prohibitive cost of abortion for fathers, and suggested that women are intentionally getting pregnant. "An abortion can cost a ballin' nigga up to 50gs maybe a 100," he posted. "Gold diggin' bitches be getting pregnant on purpose. #STRAPUP my niggas!"
West didn't offer a complete explanation for his Tweet and was swift to follow-up by explaining that his outrage wasn't based on personal experience: "It ain't happen to me but I know people," he posted.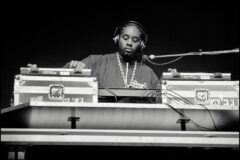 Lily Allen, who has tragically suffered two miscarriages since 2008, was outraged by West's post and was quick to let Kanye know. "Never has a tweet put me in such a bad mood. This is wrong on so many levels."
West's Tweets are just the latest in a long line celebrity Twitter beefs that have taken place since the micro-blogging site launched in 2006. See SPIN's list of the 12 Biggest Twitter Feuds of All Time, from Amy Winehouse vs. Mark Ronson to Courtney Love vs. the Internet.