How's this for meta: Atlanta rapper B.o.B. performs his hit song "Airplanes" on a Delta airplane more than 30,000 high. Watch the video below.
En route to Los Angeles for Sunday's Grammy Awards, the man born Bobby Ray Simmons nabs the loudspeaker and spits a verse for passengers.
Is it a coincidence that Delta is a sponsor of the Grammys (as the flight attendant in the video reminds us), and the 22-year-old rapper is nominated for five awards? Probably not. But, hey, it's still a neato video. Sadly, though, the hit song's guest singer, Paramore's Hayley Williams, couldn't make it. Maybe she was stuck in line at security. Damn TSA!
Watch the video, then take off in the comment section.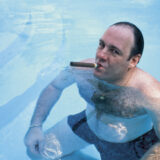 B.o.B. "Airplanes"
https://www.youtube.com/embed/lGLZ36p8vas