Gang Of Four grew out of the late-'70s English post-punk movement, making danceable rock out of radical political theory. As unlikely as that may sound now, their music went on to influence countless bands that followed, from the Red Hot Chili Peppers to Franz Ferdinand. Friday night at Toronto's Phoenix Concert Theatre, the two remaining founding members, Jon King and Andy Gill, kicked off the band's North American tour in support of their first album in 15 years, the much praised Content.
Wearing tight black pants and a rumpled shirt unbuttoned to expose a taut physique, King stalked the stage like a villain out of Shakespeare, leering and jabbing with an accusing finger as if to say, "I know you're only here for the old songs! Shame! Shame!" But, in reality, the cuts from Content fit tidily next to classic material from their masterworks Entertainment! and Solid Gold, as well as a handful of tunes from the less venerated Songs Of The Free.
Content's acid-tongued screed "You'll Never Pay For The Farm" was a scorched-earth opener, perfect for these days of subprime mortgage meltdowns and rampant home foreclosures. And the slick rhythms of "I Party All The Time" gave King a chance to shimmy fluidly but menacingly, like Johnny Rotten in yoga class.
King worked the crowd with sinuous moves and fierce energy, while Gill stood defiantly still and thwacked at his guitar with a look that suggested an intense form of indifference.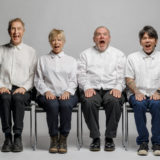 Drummer Mark Heaney and bassist Thomas McNeice kept the trains running on time, but seemed caught between recreating departed rhythm section members Dave Allen and Hugo Burnham's parts and their own natural playing styles. Heaney, in particular, was disinterested in Burnham's reggae influences, sounding much more convincing on Content's harder tracks.
In fact, when Heaney turned Entertainment!'s "Return The Gift" into a hard-driving rock number, he led the band to the sweet spot between the crowd's expectations and the new unit's true strength. The lesson was: The early material can withstand just about anything – a stiffer backbeat, thirty-odd years, Microsoft commercials, the list goes on.
After "Gift," wherever Gang Of Four wanted to lead, their proletariat followed. Gill's solemn announcement that his colleague "would now demonstrate how to make a TV dinner" sent grins through the audience, as roadies wheeled a microwave oven onstage for King to pummel with an axe handle during the whirling polyrhythmic shudder of "He'd Send In The Army."
But the real smiles broke out when they ratcheted the opening riff of "Damaged Goods" into place, perversely delighting the fans who sang along with lines like "Sometimes I'm thinking that I love you / But I know it's only lust."
Sorry, comrade, but after all this time, I'm pretty sure it's love.
Setlist:
You'll Never Pay For The Farm
It's Not Made For Great Men
Ether
I Can See From Far Away
Paralysed (without King)
Fruitfly In The Beehive
What We All Want
I Party All The Time
Return The Gift
You Don't Have To Be Mad
We Live As We Dream, Alone
To Hell With Poverty
Do As I Say
He'd Send In The Army
Natural's Not In It
Damaged Goods
At Home He's A Tourist
I Love A Man In A Uniform