Alexis Taylor, primary vocalist for ever loveable U.K. electro pop outfit Hot Chip, can now be heard in an entirely new manner, as the frontman for About Group, his side project featuring members of Spiritualized and This Heat. Hear an exclusive stream of "Don't Worry," the first song from the band's new album, Start and Complete (out April 26), below:
We're sorry, this track is unavailable
Start and Complete, the side-project's second effort, finds Taylor's ethereal coo backed by an organic, even rockin' array of sounds, and was recorded at the legendary Abbey Road Studios in a single day. It was a big shift for Taylor, who makes music with Hot Chip over long periods of time, and rarely in a proper studio.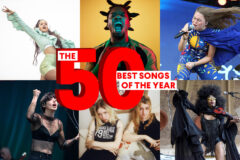 "We love the sounds of those Beatles records, and the way the people that work there know what they're doing," Taylor tells SPIN. "They have a great tradition of engineering the recording, setting up the mics in just the right way. You feel like if you're going to record in a day, you might as well do it somewhere like that."
About Group sprung from mutual admiration among the members — Taylor, Charles Hayward (This Heat), John Coxon (Spring Heel Jack, Spiritualized), and Pat Thomas — and Taylor's need for an outlet for a number of cuts he'd written that never found the light of day.
"It felt like it would be interesting to record them with this group because I liked the idea of no one really being that familiar with the material so that they can bring their improvisational approach to a batch of songs," Taylor explains.
As for "Don't Worry," Taylor says he wrote it when Hot Chip inked their major label deal with EMI. It captured his feelings about getting signed. "I was pretty confused whether that was the worst decision in the world or not really," he admits. And the idea of "Don't Worry" wasn't at all about finding catharsis, reassuring himself that things would be alright: "It was more like, 'Don't worry, everything is potentially ruined, so what's there to worry about?'"
Tell us what you think of About Group in the comments.