Cleveland-based Cloud Nothings, the power-pop creation of 19-year-old whiz kid Dylan Baldi, just released their self-titled debut album — and are premiering the official music video to their fidgety-fun single "Understand At All" right here. Since they're likely to create a big buzz at next month's SXSW festival, get a jump on your friends by checking it out below!
In the comically psychedelic clip — directed by filmmaker Allen Cordell — a red-faced ghoul magically transforms into a blinged-out skinny grandpa who gets into a punching match with a bloody bearded man who then turns into… a chair. Add in acid-soaked, cartoonish graphics and voila! It's one very random music video.
But that was exactly the point. "I really wanted to subvert viewer expectations," Cordell tells SPIN. "Without providing context or back story, the unfolding events are unexpected and non sequitur."
Cordell has incorporated comic and trippy aesthetics into his works before, on clips like Dan Deacon's "Big Big Big Big Big." The director also has a tendency of using quirky characters, like the crazy old man in Cloud Nothings' video, to create a sense of weird, dark humor — he's done it before in Beach House's bizarrely touching "Walk in the Park."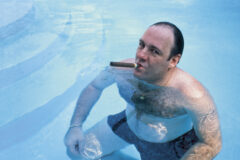 But what Baldi, the band's mastermind, loves most about working with Cordell this time around is his playful ambition. "I like that Allen chose to use it as a vehicle for his dreams of turning a person into a chair on camera," he says. "Makes me proud."
Watch the video here and sound off in the comments!
WATCH: Cloud Nothings, "Understand At All"