San Francisco-based duo Exray's broke out last year when an instrumental version of their slow-building electro-pop anthem "Hesitation" was featured in David Fincher's Oscar-nominated movie The Social Network. Now the California electro-pop band – who were hand-picked by Fincher when the movie's sound designer (and mutual friend) Ren Klyce passed along their music to the director – have prepped a video of their own, which you can watch below.
"Hesitation" is one amazing mind-flip of a video: The clip lays out trippy, intergalactic visual effects on top of footage of Cold War-era PSAs, when American fears about nuclear attack were at a fever pitch.
Exray's member Michael Falsetto-Mapp (who directed and edited the video) says that sort of cultural paranoia still has resonance in today's era of constant social networking. "I started thinking about the whole idea of societal pressure and I gravitated toward a '50s theme with the found footage I was collecting," he says. "In my opinion, that era has a kind of absurd beauty that fits the song well. The expressions and mannerisms of people from that time were ripe with opportunity. Also, the video could play like a surreal news broadcast about a day in the life of our own indecision and hesitation."
The group's self-titled debut album is available now from Howells Transmitter records.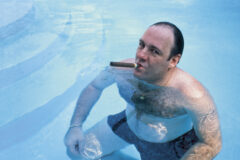 WATCH: Exray's, "Hesitation"